Virtual Churches: Is VR the Future of Religious Technology?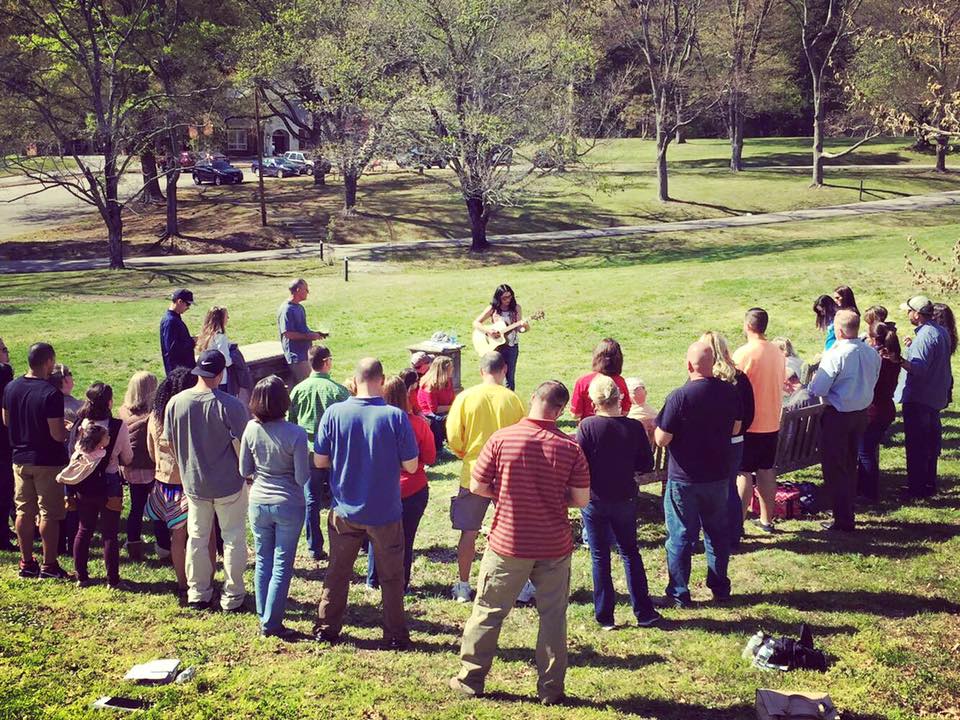 In the 18th century, the American colonies experienced an enormous swell of religious fervor known as the First Great Awakening.
Leaving the cold, dark churches and their solemnly delivered sermons for exuberant traveling preachers in the town square, the colonials must have felt a profound spiritual transformation.
Since that First Great Awakening, there have been many other breakthroughs in the way people worship and interact spiritually: televangelists, megachurches, and online churches, just to name a few.
They're all part of the constantly evolving way that we experience religion, and for the church to stay relevant, it will need to continue to embrace innovation by listening for new voices coming from the town square.
VR is one of the most recent examples of technology altering the way we worship, and in this article, we'll look at how your Virtual Church could become a virtual church.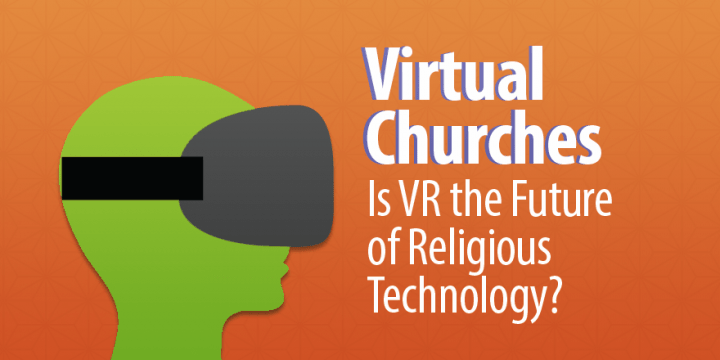 What is virtual reality?
Virtual reality uses computer-generated 360-degree images to immerse the viewer in a comprehensive, realistic experience.
When I recently came home from a summer in Washington, D.C., I brought my little sister a virtual reality viewer that let her visit the national monuments without ever leaving her room. She loved it, and spent hours that night looking around the Jefferson Memorial, the Washington Monument, the Capitol Building, and (my favorite) the Lincoln Memorial.
Virtual reality offers an escape from ordinary content consumption, but it also offers an exciting educational experience.
Students can work with virtual reality in the classroom to visit historical sites, watch a demonstration, or learn about the stars. Employees can train on the job without entering into dangerous or uncomfortable situations in real life.
Virtual reality can also be a portal to faith and spirituality for those who might not otherwise get the chance.
Virtual reality and the Church
L. Michelle Salvant, founder of Mission:VR, considers virtual reality to be vital for faith formation.
"We have a lot of people talking about faith," she says. "But I know for a surety that when you can experience someone's faith and their hope, when you can go inside of their life and feel it, conversion will increase."
Mission:VR partnered with Covalent Reality to create an environment for the virtual reality platform Google Cardboard called BelieveVR.
BelieveVR uses 360-degree cameras to follow the stories of people of faith as they struggle to overcome spiritual challenges. The first story, called "Healed,"follows Florida pastor Nicky E. Collins as she finds spiritual support during her battle with breast cancer. After the premiere of the short film, Salvant said viewers were "uplifted" by the experience, which they called "awesome" and "touching."
That's just one example of how virtual reality is affecting the worship experience.
#1 Case: Church Online Platform
Church Online is developing a virtual reality platform to supplement its online presence.
#2 Case: Virtual Reality Church
The Virtual Reality Church uses the software platform AltspaceVR (free for most Android VR devices) to bring their congregants a 360-degree church experience.
What is VR Church?
In recent times the Church has been slow to venture into new technology; with many pastors siting allegiance to the good old pen and paper over an iPad. Indeed technology is often met with mistrust; but this was not always the case for God's people. In 1454 one of these new technologies in it's infancy was used to print the Gutenberg bible. At one point the pen and paper was a new technology, and God has embraced that in order to communicate his word. As Christian's it is our mandate to communicate God's loving kindness through whatever means we have available to us. Advanced technology and recent breakthroughs such as virtual reality present new media channels through which the Church can communicate the timeless message of Jesus.
VR Church is not so much about being a Church as it is about making use of technology to engage in the mission of the Church. Virtual Reality is an upcoming media channel that can be used like any other to communicate God's words. Virtual Reality is different from many channels though in that it presents more ways for us to communicate God's word that other channels: it is actually most similar to theatre in that respect. An important aspect of this channel is that we can communicate God's word using different learning modalities: kinaesthetic, audio and visual learning styles are all represented and this has been shown to help with memorisation, as well as engaging a wide range of people.
So what specifically can we do with virtual reality that we couldn't do already? Well, in a quick moment in our busy lives we can put on our VR headset and:
Be transported to a new and beautiful place which reflects the words of the Psalms
Be completely immersed in scenes from the bible
Find a quiet and still place to pray and worship
Join in a unique communal prayer room
There are a lot of different possibilities for how we might engage with God in virtual reality, what is left to do now is to get out there and present these ideas so that might be experienced and enjoyed.
#3 Case: SecondLife
SecondLife, one of the earliest virtual reality software systems, offers three different churches in its platform, and you can start exploring for free.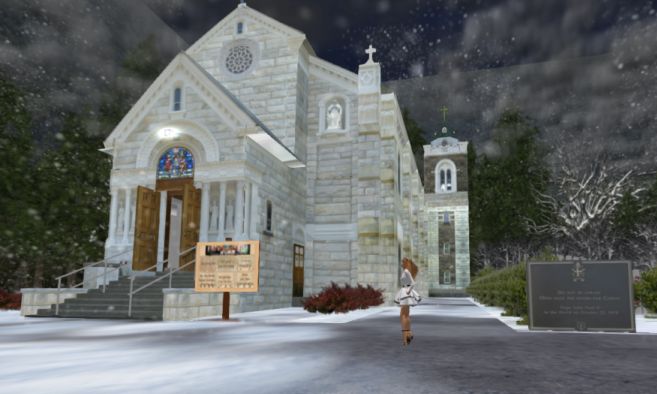 The National Shrine of the Divine Mercy in Second Life
No one expects any of these platforms to replace traditional churches, and even a megachurch would be ill advised to buy hundreds of high-end Oculus Rift headsets for their congregation.
But as VR devices become more and more affordable and ubiquitous (Google Cardboard can turn your smartphone into a VR headset for about $15, for example), virtual reality will become another channel for people to communicate on.
For people who can't physically come to church, people who want to enhance their experience with new technology, or people who want to come back to the church, virtual reality offers another opportunity to do so.
Using virtual reality in the church brings a holistic spiritual experience to those who can't or wouldn't normally go to church. Making faith accessible to more people was one of the major goals Salvant hoped to achieve with her church software. People with disabilities are less likely to attend a service, so virtual reality quite literally opens the door for hundreds of thousands of disabled religious people across the country.
Clearly, VR is making its way into the spiritual community. But what are some ways you can use it in your own church?
1. Live stream in VR
I love watching live streams. They're like a little window into someone else's life. My church at home sets up a live stream at every Mass for those who can't make it. But VR takes it to a whole new level. Your congregants can meet in a common space that requires no travel time, no cleanup, and no reservation.
VahanaVR by Orah
Software such as VahanaVR by Orah, or Facebook Spaces for Oculus Rift provides real-time hangout spaces for any kind of event, meeting, or service. Your congregants don't necessarily need a headset. All you need to broadcast in 3D is:
Anyone who wants to watch can simply click the link, put on a headset or watch on their computer screen, and become immersed in the experience.
2. VR small groups
You can also apply virtual reality to smaller groups of people. Instead of meeting at the church for department decisions, your staff can simply log onto an online VR platform.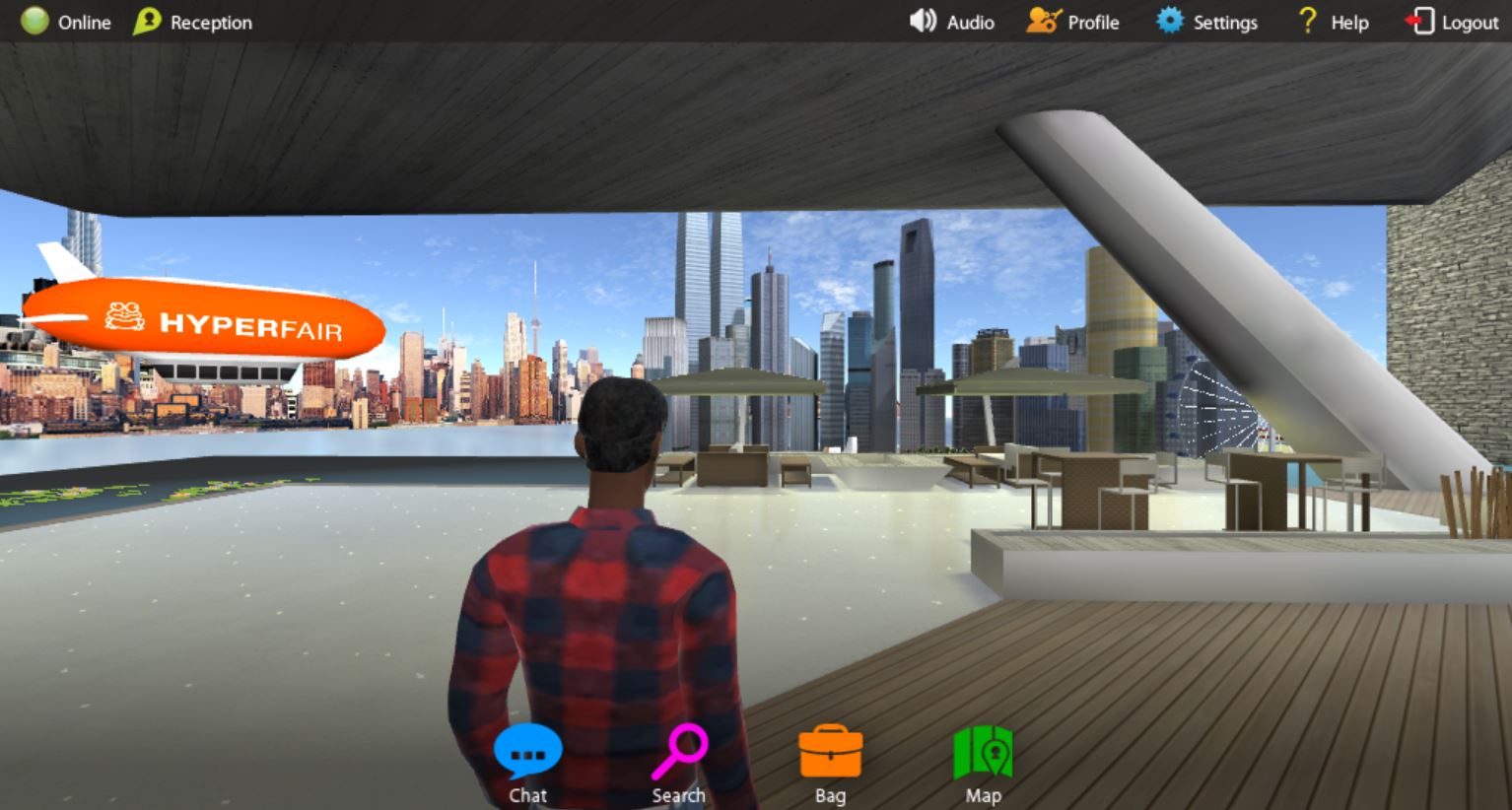 A demo in Hyperfair
Hyperfair, which is usually used for businesses, could be used to meet in a virtual space. Pricing for Hyperfair is not available online.
Mozilla's MozVR is a free, open-source virtual reality framework that allows you to create your own online VR experience and share it with your coworkers or friends (assuming you have advanced programming ability, of course).
vTime is a VR social network that allows people to meet in virtual space, and is free on Windows Mixed Reality devices.
Meeting in virtual space provides a chance to meet new people without the pressure of meeting in person. It gives your congregants a chance to talk to like-minded people about their faith, without having to leave home. For people who are new to the church, a virtual reality group just for them can give them a chance to get to know new people before they arrive.
3. VR group retreats
Retreats are expensive. There's no way around it. From finding a place to accommodate everyone in your group, to catering food for each night, to planning the content and activities, retreats are labor intensive and costly.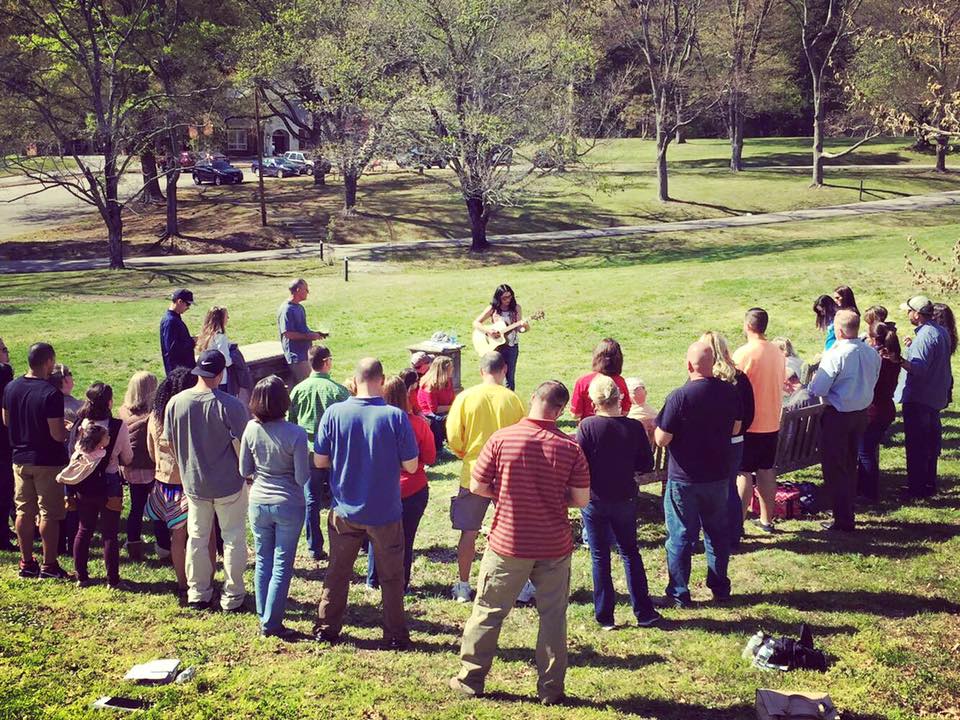 What if you could join them from anywhere in the world using your computer?
Meeting in a virtual space (using the same devices and apps outlined in the sections above) can reduce the cost of reserving a building or campground, as well as travel to that location.
Guest speakers can give talks without ever having to leave their homes. People with disabilities can participate without having to worry about whether the space will accommodate their needs.
And the possibilities are endless. In the near future, you might be able to virtually travel all over the world on your retreat without having to pay for tickets or hotels. Because the virtual environment is computer generated, the options are only limited to what the designers and programmers can dream up. Just be prepared for a little push back if you try to convince your congregation that a virtual Hawaiian beachfront is as good as the real thing. We're not quitethere yet.
How will you include virtual reality in your church?
Media professionals say virtual reality is the future. Classrooms, real estate, and construction are just three industries where virtual reality is already becoming a part of everyday life.
Places of faith and worship are not far behind. Will you incorporate VR in your church experience in the future? How will VR help your church? Tell us what you think in the comments!
Business books to read in 2021: top picks
The COVID pandemic has changed habits and reassigned priorities for all of us. There is, however, a segment of people whose natural way to treat crisis is to use the opportunities it offers: the entrepreneurs.
With an unprecedented economy stimulus coming from the U.S. Federal Reserve, the idea of starting new business (or investing in an existing one) became even more popular than previously. This, however, requires a certain level of preparation: you definitely don't want to learn on your own mistakes losing money. Thankfully, business and entrepreneurship is the field where there are tons of useful and inspiring books to learn from.
But how to navigate through those thousands of books and authors? Let's make an overview of the most in-demand business ebooks as of 2021.
Finance and Investments
Strongly recommended is "The Intelligent Investor" by Benjamin Graham, an eminent economist and investor of the 20th century. He has created a guide that has inspired millions of people around the world for 70 years. Since its first publication in 1949, the book has become a veritable bible of the stock market. The modern edition is supplemented by comments by financial journalist Jason Zweig, who draws parallels between Graham's examples and modern realities, and also provides a deeper understanding of how to adapt the author's philosophy to everyday life.
Internet Technology
The ITIL (Information Technology Infrastructure Library) is a framework for standardizing the selection, planning, provision, maintenance and the entire life cycle of IT services in a company. The goal is to improve efficiency and achieve predictable service delivery.
The ITIL books cover key concepts of service management, the four dimensions of service management, the ITIL service value system, and ITIL management practices.
Entrepreneurship
This is an extremely wide field of study, incorporating both motivational, inspiring books with those designed to improve hard skills. As for the first option, the "Money: Master the Game" by Tony Robbins keeps first place in our wish list.
Another must-read is "Think and grow rich" by Napoleon Hill. This bestseller was written in the end of the 20th century and has been reprinted over 40 times. In his book, the author has collected the stories of famous millionaires of his time who stubbornly went towards their goals.
What is The Full Form of PhD?
The full form of PhD is a Doctor of Philosophy or a Doctorate in Philosophy.
This is a postgraduate academic degree awarded to individuals who have gone through the process of studying and researching extensive subject matter in their field. It can be obtained from an accredited university and requires one to go through a research dissertation.
What Is The Meaning Of PHD?
PhD is a doctoral degree that takes the form of a research degree. It generally recommends a substantial amount of independent, original research and a formal defence of that research.
The word "Doctor" in the abbreviation PhD comes from Latin "doctor" which means "teacher". In other words, PhD holders are teachers who have done extensive teaching and research as demonstrated by their dissertation.
What Is The Abbreviation Of Doctorate of Philosophy?
PhD is the abbreviation for Doctorate of Philosophy.
Doctorate of Philosophy is a postgraduate degree that requires three to five years of study and research. The abbreviation for Doctorate of Philosophy is PhD.
Which is higher MD or PhD?
A person can be awarded with a Master of Science degree (MS) after completing course work and passing a series of written and oral exams. Master's degrees typically take one to three years to complete.
A PhD is a Doctoral Degree, which is the highest academic award in most countries. To earn a PhD in the US, students usually have to complete at least four years of study beyond an undergraduate degree.
Master's degrees are often seen as higher than Doctoral Degrees because they require more advanced subject knowledge and coursework.
We weren't the only ones streaming the party yesterday. Apple held its latest event — the one that annually triggers iOS users to stop and think, "Hm, do I need an upgrade?"
Mobile gamers, in particular, could be tempted by the new iPhone 13 Pro and Pro Max, which got the new A15 Bionic chip. Apple said it's the "fastest CPU in any smartphone" with a 6-core CPU (one more than the new non-Pro models). Because of the updates, the Pro models allow for 50% faster graphics and can last about 1.5-2.5 hours longer than the iPhone 12 Pro and Max models, respectively.
Apple unveiling a new iPhone with a better camera is a free space on your bingo card every year. With this update, Pro models got a bigger, 77 mm telephoto lens (these help you to take photos of subjects that are farther away) with night mode and 3x optical zoom (up from 2x-2.5x). Users also get new wide and ultrawide cameras, autofocus, and a new mode for taking close-ups up to 2cm away.
The standard iPhone 13 and Mini models also feature the A15 Bionic chip. The dual camera got updates as well, but Apple is mostly playing up its new Cinematic Mode across all models. It's basically portrait mode but for video.
Apple Watch Series 7 also got some upgrades, most notably a wider screen and 20% larger display.
The biggest star of the show though was probably the iPad — specifically the new iPad Mini. It got the A15 Bionic chip and lost its home button — meaning it now looks like a mini iPad Air complete with a USB-C port and Touch ID on the power button. The iPad and iPad Mini also got ultrawide cameras with Center Stage. The feature uses machine learning to adjust the front-facing camera during FaceTime video calls to keep you in frame.
We're looking forward to hearing what you're most excited about and what you're disappointed by — you too, Android users.