Popular Medical Apps for Doctors and Patients
Health app features may vary, but the desired result for all of them is the same. They exist to make life easier for hospital and clinic patients so that they can keep track of their test results, pay their bills, and so much more. Doctors find them to be equally useful.
Over the last decade, smartphones have made a disruptive breakthrough, started from merely communications tools with a set of simplified games and got to where they are now – powerful business mediators with lots of specialized mobile apps.   
The industry of digital healthcare is quite diverse as it includes several components.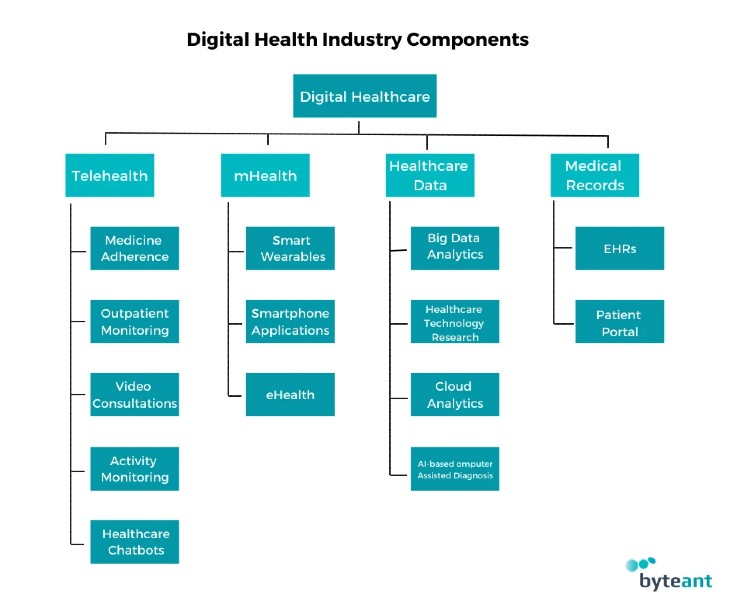 As you can see, the digital healthcare space is quite branchy as it leverages the huge potential of the latest innovative tech trends, like IoT, Big Data and AI for the sake of both patients and healthcare providers. Earlier, we already elaborated on the benefits of adopting Telemedicine services on a global scale. This time around, we will focus on using healthcare apps and single out the best medical apps for doctors and patients.
mHealth: The benefits of using medical apps
Nowadays, this is mHealth that drives development and revenue throughout the overall digital healthcare industry. The recent stats by Statista show that by 2021 the global mHealth market is estimated to reach $100 bn, which accounts for nearly half of the predicted total digital healthcare share of $206 billion.

The reason behind such popularity is pure and simple – medical applications can help enhance the interaction between patients and healthcare providers across multiple touch points:
Improve patient experience. Medical apps for patients come in handy in handling ordinary cases as well as in critical situations, where access to professional medical assistance is not available at the moment (patients with disabilities, rural dwellers, etc.).
Personal health data security. Modern healthcare software solutions ensure storing all the medical data safe and sound on cloud-based servers, while enabling patients keeping track of all the changes within their past health-related admission history.
Enhance physician efficiency. Medical apps for doctors are an indispensable tool when it comes to orchestrating massive personal and patient datasets, optimizing communication, and making their job less stressful with minimum paperwork.
Accurate real-time healthcare insights. Harnessing the power of healthcare mobile app development can greatly improve communication efficiency rates for all the stakeholders. What's more, it helps avoid human errors to get more reliable results needed for further patient treatment.
TOP 10 medical apps to consider for 2021
Among the ocean of unappetizing medical apps, however, it is way too difficult to find the effective ones that would suit your needs. You may wonder, how to choose a decent mobile application for healthcare?
After a thorough examination (not medical this time, though the pun is intended), we've made up a top list of the best medical apps for doctors, medical students and patients of 2020. So, here it is – just take your pick!
1. UpToDate
A powerful platform for doctors and medical students. It provides easy access to its functions from most devices, like smartphones, desktop computers and tablets. The solution has vast amounts of up-to-date professional info resources on almost every single field of healthcare, which is shared across physicians and clinics with no hassle. Doctors from all around the globe have a possibility to get proven recommendations from the world's best experts. Explore an overview of UpToDate app in the video.
2. DynaMed Plus
This is a robust evidence-based solution for clinicians, who need to get instant yet relevant insights on multiple cases when they are on the go. The app is fully compatible with iOS and Android platforms. A user-friendly interface and access to exhaustive information on every topic is what makes it an indispensable tool for healthcare providers.
3. Isabel Pro
One of the most actionable medical apps for diagnostics. A large database enables practitioners to consult expert publications to check their diagnoses. The app includes a number of useful features, like filtering by age, gender and travel history of patients. An integrated knowledge base contains info on all the known diseases and their symptoms to help healthcare providers make better decisions.
A unique tool for ultrasound examinations. With this app on board, you can easily get your clinical-grade ultrasound diagnostics at home. The app provides insights on when and why the patient should undergo a scanning procedure. Due to a vast hi-res image database, you can easily double-check the previous diagnosis. A mobile responsive interface with well-detailed anatomy illustrations helps compare sonographic results right at the bedside.
5. Medscape
This app can retrieve healthcare-related news from the Internet to provide physicians with the most accurate and timely information on all the clinical topics. Its database comprises reference information on over 8,000 OTC and prescription drugs, supplements and herbals alongside a checker for drug interaction and a pill identifier.
6. PEPID
This is a complex clinical software solution designed for decision support and patient care optimization. The app allows physicians to input all the patient's symptoms to come up with a certain diagnosis. Free access to over 3,000 disease profiles and intuitive interface makes the application popular among healthcare providers.
7. MDCalc
This is an effective calculating tool that can be used both as a desktop and a mobile app version. The app is available for iOS and Android platforms. It provides healthcare professionals and medical students with great decision tools to help identify over 150 various disease states with recommended treatment instructions.
This solution designed by 3D4Medical is more than just a medical app. This is a full-fledged anatomy platform that leverages the benefits of innovative 3D technology to provide insights no conventional tools ever could. The solution is compatible with all the popular devices, be it macOS, Windows 10, iPad, iPhone or Android. With a widespread professional community that interactively contribute to the development of the medical app knowledge base, this application is used in over 300 top medical universities by both medical students and professors.
9. VisualDX
Yet another visual-based healthcare app that possesses a unique digital library of numerous disease states, even the rarest health conditions. The app is geared for assisting healthcare specialists to make more accurate clinical decisions based on the vast hi-res image database and intuitive search features.
10. Appointik
This is a cloud-based application design to improve medical practice management efficiency. The tool is available for Android devices so far, yet the huge potential leaves no room for doubt of its soon expansion on other platforms. Among the most prominent features are easy access to patient historical data, smooth appointment scheduling and canceling, e-prescription, billing and quick info sharing via messengers or email.
With all that said, you can't but notice that mHealth apps are great in number and quite hard to choose from. However, most of them allow users to give it a try with free trial periods and less pricey individual plans.
If you are likely to have a personalized software app tailored to your specific healthcare needs, you'd better turn your eye on custom-built solutions.
Business books to read in 2021: top picks
The COVID pandemic has changed habits and reassigned priorities for all of us. There is, however, a segment of people whose natural way to treat crisis is to use the opportunities it offers: the entrepreneurs.
With an unprecedented economy stimulus coming from the U.S. Federal Reserve, the idea of starting new business (or investing in an existing one) became even more popular than previously. This, however, requires a certain level of preparation: you definitely don't want to learn on your own mistakes losing money. Thankfully, business and entrepreneurship is the field where there are tons of useful and inspiring books to learn from.
But how to navigate through those thousands of books and authors? Let's make an overview of the most in-demand business ebooks as of 2021.
Finance and Investments
Strongly recommended is "The Intelligent Investor" by Benjamin Graham, an eminent economist and investor of the 20th century. He has created a guide that has inspired millions of people around the world for 70 years. Since its first publication in 1949, the book has become a veritable bible of the stock market. The modern edition is supplemented by comments by financial journalist Jason Zweig, who draws parallels between Graham's examples and modern realities, and also provides a deeper understanding of how to adapt the author's philosophy to everyday life.
Internet Technology
The ITIL (Information Technology Infrastructure Library) is a framework for standardizing the selection, planning, provision, maintenance and the entire life cycle of IT services in a company. The goal is to improve efficiency and achieve predictable service delivery.
The ITIL books cover key concepts of service management, the four dimensions of service management, the ITIL service value system, and ITIL management practices.
Entrepreneurship
This is an extremely wide field of study, incorporating both motivational, inspiring books with those designed to improve hard skills. As for the first option, the "Money: Master the Game" by Tony Robbins keeps first place in our wish list.
Another must-read is "Think and grow rich" by Napoleon Hill. This bestseller was written in the end of the 20th century and has been reprinted over 40 times. In his book, the author has collected the stories of famous millionaires of his time who stubbornly went towards their goals.
What is The Full Form of PhD?
The full form of PhD is a Doctor of Philosophy or a Doctorate in Philosophy.
This is a postgraduate academic degree awarded to individuals who have gone through the process of studying and researching extensive subject matter in their field. It can be obtained from an accredited university and requires one to go through a research dissertation.
What Is The Meaning Of PHD?
PhD is a doctoral degree that takes the form of a research degree. It generally recommends a substantial amount of independent, original research and a formal defence of that research.
The word "Doctor" in the abbreviation PhD comes from Latin "doctor" which means "teacher". In other words, PhD holders are teachers who have done extensive teaching and research as demonstrated by their dissertation.
What Is The Abbreviation Of Doctorate of Philosophy?
PhD is the abbreviation for Doctorate of Philosophy.
Doctorate of Philosophy is a postgraduate degree that requires three to five years of study and research. The abbreviation for Doctorate of Philosophy is PhD.
Which is higher MD or PhD?
A person can be awarded with a Master of Science degree (MS) after completing course work and passing a series of written and oral exams. Master's degrees typically take one to three years to complete.
A PhD is a Doctoral Degree, which is the highest academic award in most countries. To earn a PhD in the US, students usually have to complete at least four years of study beyond an undergraduate degree.
Master's degrees are often seen as higher than Doctoral Degrees because they require more advanced subject knowledge and coursework.
We weren't the only ones streaming the party yesterday. Apple held its latest event — the one that annually triggers iOS users to stop and think, "Hm, do I need an upgrade?"
Mobile gamers, in particular, could be tempted by the new iPhone 13 Pro and Pro Max, which got the new A15 Bionic chip. Apple said it's the "fastest CPU in any smartphone" with a 6-core CPU (one more than the new non-Pro models). Because of the updates, the Pro models allow for 50% faster graphics and can last about 1.5-2.5 hours longer than the iPhone 12 Pro and Max models, respectively.
Apple unveiling a new iPhone with a better camera is a free space on your bingo card every year. With this update, Pro models got a bigger, 77 mm telephoto lens (these help you to take photos of subjects that are farther away) with night mode and 3x optical zoom (up from 2x-2.5x). Users also get new wide and ultrawide cameras, autofocus, and a new mode for taking close-ups up to 2cm away.
The standard iPhone 13 and Mini models also feature the A15 Bionic chip. The dual camera got updates as well, but Apple is mostly playing up its new Cinematic Mode across all models. It's basically portrait mode but for video.
Apple Watch Series 7 also got some upgrades, most notably a wider screen and 20% larger display.
The biggest star of the show though was probably the iPad — specifically the new iPad Mini. It got the A15 Bionic chip and lost its home button — meaning it now looks like a mini iPad Air complete with a USB-C port and Touch ID on the power button. The iPad and iPad Mini also got ultrawide cameras with Center Stage. The feature uses machine learning to adjust the front-facing camera during FaceTime video calls to keep you in frame.
We're looking forward to hearing what you're most excited about and what you're disappointed by — you too, Android users.