The Reasons To Upgrade To Magento 2
Magento 1 will cease to be supported at the end of June 2020, so Magento store owners should make the tough call of whether they should continue operating their ecommerce websites on Magento 1 or upgrade to Magento 2.
Magento 2 was released to address many of the drawbacks, malfunctions, and bugs of Magento 1 and turned out to be a significant upgrade in terms of performance and usability compared to the former. 
Magento 1 vs Magento 2: Key Differences
Magento 1 was originally developed as a flexible ecommerce solution. However, the platform lacked some vital features (performance optimization and mobile-friendliness) that were found on many rival ecommerce platforms. Therefore, many merchants were complaining about the slow performance of their Magento 1 stores leading to lost customers and decreased revenue.
Magento 2 has come to resolve all of the problems encountered in Magento 1. Moreover, Magento 2 includes even more benefits compared to Magento 1. Let's highlight the top differences between Magento 1 vs Magento 2 features. Some of these key improvements are:
The Magento development team has modified the stack by adding different new technologies – Apache, NGINX, Varnish, Composer, Symfony, Redis, and more. The architecture now supports the PHP7 version, which essentially means even better chances for optimization and customization.
Magento 1 vs 2 technology stack:
| Magento 1 | Magento 2 |
| --- | --- |
| Apache 2.x | Apache 2.2./2.4. |
| | Nginx 1.7 or greater |
| PHP 5.2.x – 5.5.x | PHP 5.6.x/ 7.0.2 / 7.0.6 |
| MySQL | MySQL/MySQL Percona 5.6.x or greater |
| Solr (Only for EE) | Solr 4x |
| HTML | HTML 5 |
| | Varnish 3.x / 4.x |
| CSS | CSS3 |
| | Redis 2.x / 3.x or Memcached 1.4.x |
| JQuery (in latest themes) | JQuery |
| | RequireJS / Knockout.js |
| | PSR – 0 / 1 / 2 / 3 / 4 |
| Zend Framework 1 | Zend Framework 1 / 2 |
| | Composer |
| | Symfony |
Once your business expands, you will get more traffic and require a solution to be able to cope with a large flow of visitors. If we're talking about Magento 2 vs Magento 1 performance, Magento 2 is faster all around: on the product, category, and home pages. As mentioned above, many new technologies were added to Magento 2 that helped to optimize pages for fast delivery, reduce the server response time for site activities, and make backend operations more effective.
The average loading time is now below two seconds (50% faster than Magento 1), which means there is a much smaller probability that your customers will leave a website because of slow page loads. This is all possible due to full-page caching technologies such as Varnish and NGINX.
According to Benchmark Testing, now Magento 2 can operate around two million more page views and process up to 39% more orders hourly compared to Magento 1. Add to cart server response is now 66% faster, and an end-to-end checkout is also 51% faster.
Even though Magento 2 offers fast performance by default, it doesn't mean that you don't need to optimize your site speed. In general, slow interface and loading time issues are caused by a lack of knowledge in optimizing the website. Slow load times hurt crawl efficiency and lead to fewer pages being indexed, so make sure you do everything possible to speed up Magento 2.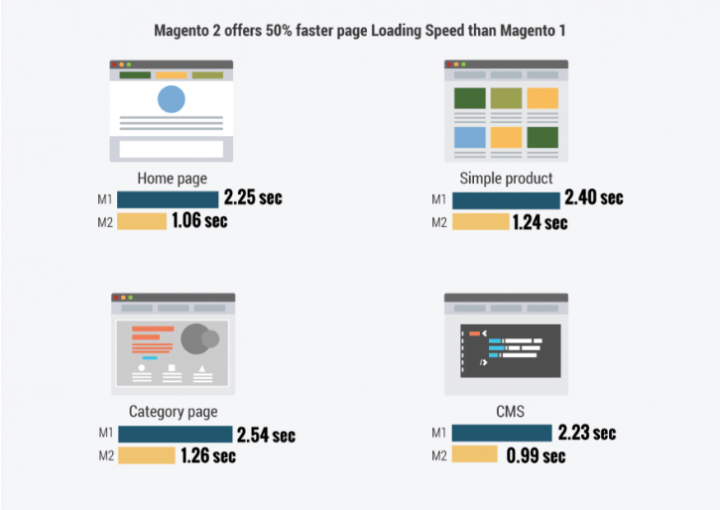 The admin panel in Magento 2 is customer-friendly, easy in navigation and intuitive. Thus, you can find info effortlessly, navigate all elements of the admin panel smoothly, and operate your ecommerce store more effectively.
An advanced dashboard is what Magento 1 was missing. Magento 2 admin dashboard displays last, new, and average orders; lifetime retail sales, top search keywords; income tax, bestsellers; the number of products; and amount of shipping that helps to determine the progress of your ecommerce business. In addition, with Magento 2 you can create configurable products and customize data grids.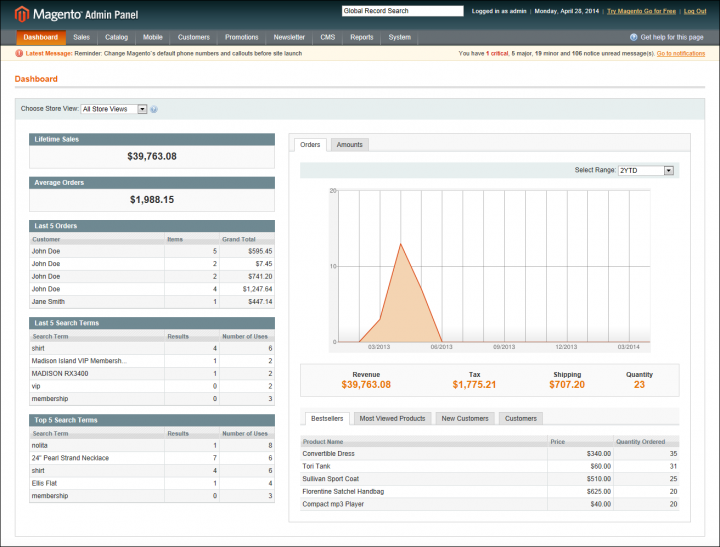 Maintaining security is crucial when operating an ecommerce website. Magento 2 supports advanced built-in security options. One of them is SHA-256 (Secure Hash Algorithm 256) for passwords, which makes it less possible for a dictionary attack to succeed.
Magento 2 also comes with the fraud protection system Signifyd. Signifyd is embedded in the latest release of Magento 2, allowing the platform to determine and reject orders that seem to be scams and deliver 100% chargeback protection. The cost of Signifyd depends on the number of orders your store processes.
The good thing is that if you're running your store on Magento 1 and you're worried about security protection, you can add security modules to your ecommerce website through extensions. The bad news is that there's a bigger possible cybersecurity threat due to the fact that Magento will stop supporting security updates and patches in June 2020.
With Magento 2, you can integrate and make modifications to new extensions less expensively and with no hassle. The process of installing extensions and updating features became simpler because of the new technologies (HTML5, CSS3, Require.js) integrated into Magento 2.
There are numerous third-party extensions available in the market for Magento 1. However, there could occur conflicts when two or more extensions attempt to rewrite the same functionality. Magento 2 introduced a change that enabled third-party plugins to overlap the core code, rather than overriding it.
One of the major Magento 1 vs 2 functionality differences is the introduction of Ajax Add-To-Cart to Magento 2. In Magento 1, when a product is added to the cart, the system reloads the page, leading to deteriorated performance. With Magento 2, by adding Ajax Add-To-Cart, the new system doesn't need to reload the page when a new product is added to the cart.
Checkout functionality has also been simplified and now it's easy for customers to navigate. Magento 2 automatically recognizes inputted card types of registered customers. This feature is not available in Magento 1.
Magento 2 takes this further and also provides advanced reporting and marketing automation. Magento 2 offers crucial business metrics, allowing you to track 20 online store reports right from the admin panel.
When it comes to marketing, Magento 2 has introduced Dotmailer e-mail marketing automation. With Dotmailer, you can create automated marketing campaigns for Push, SMS, e-mail, and other channels.
Last but not least, one of the most important changes in Magento 2 is the dependency injection. In Magento 1 class files are often large, so it's difficult to determine what their core functionality is. Magento 2 solved this problem with dependency injection, a design pattern that abstracts out the dependencies of a class to make the process quicker and easier. Dependency injection is an excellent way to diminish tight coupling between application codebase.
The end of Magento 1 support is coming soon. At the end of June 2020, Magento will stop releasing and updating security patches and important fixes on their part. Evidently there will be no more innovations, new features or enhancements for Magento 1.
At the same time, Magento 2 has integrated new features like page builder, PWA (Progressive Web Applications) and is expected to realize even more functionality to deliver robust e-commerce solution with better speed, security, and performance.
When Magento 1 was launched in 2005, it lacked significant functionalities for SEO. Magento 2 has introduced many enhancements in search engine optimization. For instance, Schema.org is aimed to boost the search engine rankings of your store. Also, rich snippets on the Magento 2 catalog pages make your product data much easier to crawl by search engines.
This could be the only aspect where Magento 1 wins the battle, as the Magento 1 license is cheaper than Magento 2. With so many updates, new functionalities, and the latest features, it's obvious why the Magento 2 license costs a pretty penny.
Community Editions: Magento 1 and Magento 2 are free of charge
Enterprise Editions: Magento 1 EE license cost (starts at): $18,000 per year
                                       Magento 2 EE license cost (starts at): $22,000 per year

Magento 1 vs Magento 2: The Reasons To Upgrade To Magento 2
15 Web Developer Portfolio List ✯✯✯✯✯ in September 2021
Design portfolios to Inspire You!
➡ Where can I find good Ideas?
➡ Where to get Inspiration?
➡ Where can I ask a Question?
➡ Where can I hire Developers for my App Idea?
➡ Tips to make own HOT Portfolio
Where to find Website Developer:
Upwork is a marketplace for freelancers. Highly recommended for web developers.
Clutch List of Web Development Company with truthful Reviews.
Freelancer is a marketplace for all types of freelance positions, including web designers, graphic designers, etc.
Fiverr is the largest freelance services marketplace.
Craigslist worldwide job-board to find graphic designers.
How To Find a Good Web Designer?
Web Developers, You Want to Work within 2021
Do you want to be on this List?
Apply Now! [for 2.99 USD]
1. Sharon Yi
When you scroll through Sharon Yi's portfolio you immediately get a sense of her personality through the playful color palette and addition of emojis. Sharon is currently working at Indigo as a Front-End Developer and the projects section on her website showcases the interactive and creative web development work that she's capable of!
Coming from a background in design, I love creating pages where I'm able to actually create enjoyable interactions and experiences for everyone! And with Juno's education and support, I'm now able to truly call myself a Front-End Developer who is currently working at Indigo!
➡ Load Web Portfolio Example or Looking TOP Promo Websites.
2. Rafael Caferati
What Rafael does: Full Stack Web Developer and UI/UX Javascript specialist.
Type: Private. Location: London, England
Rafael`s Portfolio
Where can i find Portfolio Template to Showcase my Skills and Get dream tech job?
More than 50 Fresh Templates for creative personal web development portfolios:
3. Robin Mastromari
Expert in: UI / UX Designer at HETIC
Type: Private. Location: Paris
4. Ian Lunn
Expert in: Producing HQ responsive websites and exceptional UX
Type: Private. Location: Devon, UK
5. Timmy O'Mahony
What Timmy does: Full-Stack Web & Software Development
Type: Private. Location: Dublin, Ireland.
6. Pierre Nel
Expert in: UX/UI Design, full-stack development
Type: Private. Location: London, UK
Star Trek Fan
7. Richard Hill
About: creative freelance digital designer
Type: Private. Location: Leeds, UK
Day rate is £450
8. Ben Adam
a Designer / Front End Developer
Type: Privat. Location: Tempe, AZ, USA
Currently not accepting freelance work.
9. Daniel Fischer
Expert in: Pocket CTO for Project
Type: Private. Location: San Francisco, California
10. Kay Evans-Stocks
Kay Evans-Stocks is a creative developer and graphic designer that's passionate about building digital experiences that nurture community, inclusivity, and knowledge. For each project she's worked on, Kay's taken the time to put the spotlight on the organization she worked with, while highlighting the project goals. When you browse her portfolio you immediately get a feel for her creative design approach and the work that she's capable of!
I am a creative designer and developer, who aims to work with small businesses and marginalized communities to bring their passions to life. I offer both design and development services of web applications or websites!
Expert in: Design Engineer at Tucows
Type: Private.
Location: Toronto, Ontario, Canada
* Marek Kaleta currently out of order
Expert in: digital/graphic design, UI/UX
Type: Private. Location: Warshaw, Poland
Bonus: WordPress Developers Portfolio:
* Emily Ridge
Expert in: custom WordPress developer and designer
Type: Private. Location: Salthill, Galway, Ireland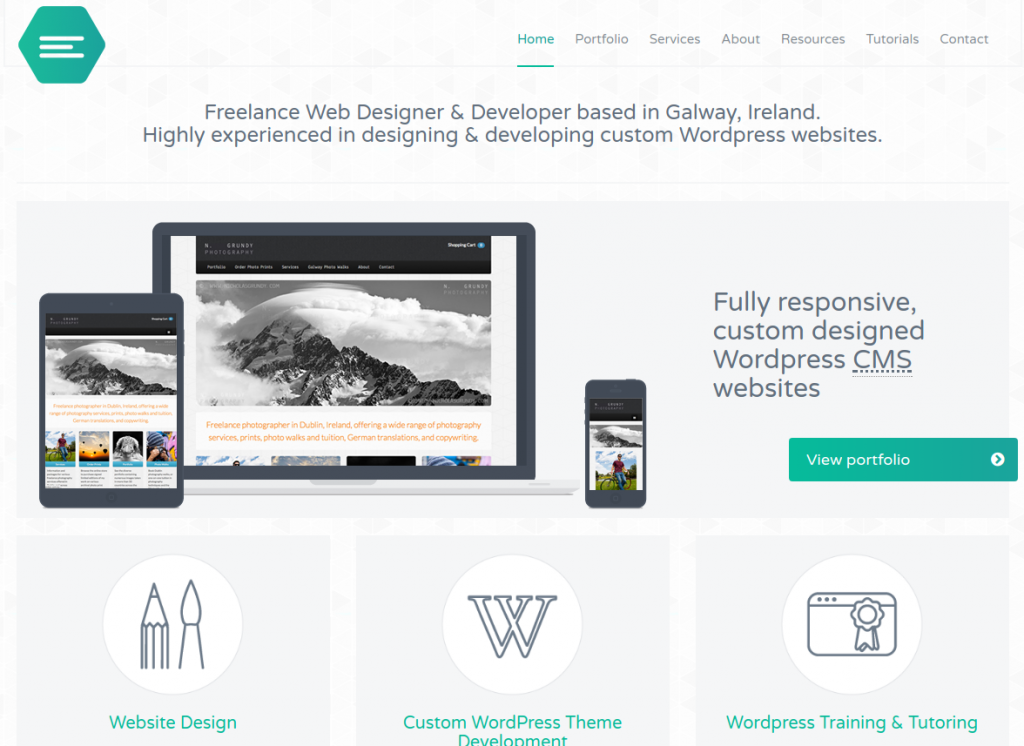 ---
Front End Developers Portfolio:
* Jack Jeznach (Awwwords Winner)
What he does: front-end and WordPress development
Mees Verberne
What he does: creative front-end development and design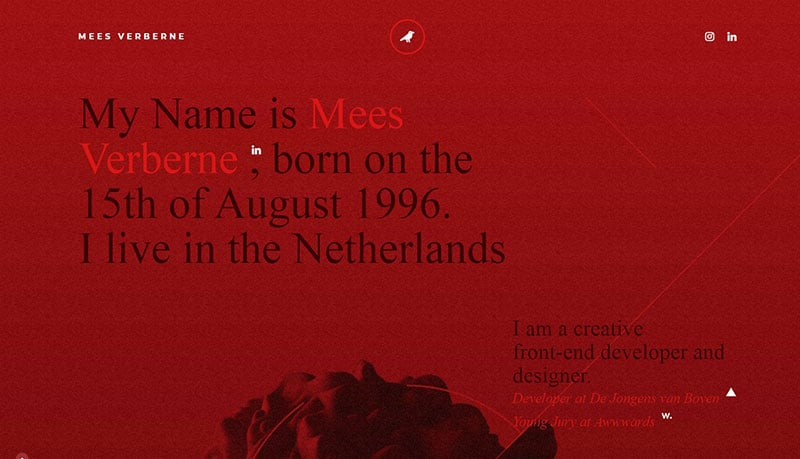 Describing himself as a highly-creative, front-end developer and designer, Mees Verberne makes use of glitching, to give the site some extra character. He also uses banded gradients that give the look of a gentle lighting.
---
UI Developers Portfolio:
* Matt Farley
Expert in: UX/UI and front-end development
Type: Private. Location: Abbotsford, British Columbia.
* Adham Dannaway
What he does: UX/UI Designer & FB Developer — adhamdannaway.com
---
Disclaimer
Really feel the inspiration for starting a career in the field of web development, only at your own risk. If you could not find inspiration from the portfolios above, pay attention to such resources.
How to Increase your Website Designer Offers? Just add your portfolio to this list here (fee is 5 EUR)!
The best tool for A/B tests for UI or CRO
I have two points for which I occasionally try to be persecuted:
If you don't know which tool to choose, then choose any tool. And this is most likely Google Optimize.
You don't need to know the under-the-hood math of A/B testing. Look at the tool's "Win/Lose" messages.
https://optimize.google.com/optimize/home/
So why do I think that?
If you don't know which tool to choose, chances are you have no or very little experience in A/B testing. To get that same experience, it's important to start as soon as possible.
If you don't know which tool to choose, it means you have no requirements for the tool. If there were real requirements, a simple comparison of functionality would quickly solve the problem. And if there are no requirements, then anything will do.
Knowing the under-the-hood math will help if you write your tool from scratch. In other cases, it's practically useless: you can't change the Google Optimize algorithm(s) and/or other tools.
It seems like picking the best tool and figuring out the under-the-hood math is very, very right. The devil lies in the definition of "right." I insist that speed of motion (start early) is more important in most cases. In that time, you will have time to do more and get better results than that gain from a better tool and knowledge of math.
Run experiments whose wins will be reported to you by accounting, not by the analytics system.
CodeIgniter 4: Build a Complete Web Apps from Scratch
Codeigniter is a popular PHP-based web application platform for building high-quality web apps, websites, content management systems, and e-commerce stores.
Web development has progressed significantly as a result of the widespread use of mobile devices and the digitization of industries, and specific solution-based application development has become a requirement of the hour. Developing multi-device supporting solutions that are reliable, scalable, and stable has become the most in-demand service in today's world.
PHP is an open-source scripting language among developers because of its ease of use. To put it another way, the PHP framework supports the creation of a simple platform for companies and entrepreneurs to build seamless web applications. This framework enables developers to use pre-built modules rather than writing repetitive code, saving time and allowing for a shorter development cycle, resulting in faster app development.
Best-in-class coding practices and development procedures are included in the PHP framework, which aids in the coordination and protection of the process.
CodeIgniter and its various aspects
CodeIgniter is a website-building framework based on the PHP programming language. It's a completely free framework to use. It features several advantages such as easy to upload and operate your website.
Codeigniter is a perfect solution for those who want to build projects from scratch without the need of installing any other software on their machine.
If you know PHP, CodeIgniter will facilitate your work. It comes with a multitude of libraries and assistants. If you build a site from the ground up, CodeIgniter will save you a lot of time. Furthermore, a CodeIgniter website development is safe, as it can prevent a variety of website-based attacks.
CodeIgniter is a lightweight PHP framework for developers who want to develop complete, simple, elegant Web applications. CodeIgniter is a technology institutional document developed by EllisLab and is a British Columbia Institute project.
A developer may choose to master one or more of the frameworks mentioned above, but the one that is the most current in terms of market dynamics and demand should be prioritized over the others. See the benefits and disadvantages of using CodeIgniter website development.
Advantages of CodeIgniter website development
CodeIgniter is a PHP MVC framework that allows developers to quickly create full-featured dynamic applications. The MVC (Model-View-Controller) architecture of CodeIgniter helps create multiple processes of the development cycle simultaneously with successful design, with a variety of libraries and packages enabling linking databases to perform diverse operations such as file uploads, session management, email sending, and more.
MVC Architecture
The MVC (Model-View-Controller) framework is used by CodeIgniter to create website designs. MVC is an architecture or design model used in the development of websites. The design structure is divided into three parts, as the name suggests, allowing for easy customization.
Model – The model, which is in charge of data management, establishes the base layer.
View – The data would be then forwarded to the receiver.
Controller – The controller's role is to keep all of the previous levels' links on the same page.
Form Validations
The form validation feature is critical in web application development. It allows you to capture and file data in the appropriate format. It also makes the job of developers much easier and more enjoyable. The CodeIgniter system makes custom validation easy, and it comes with a number of built-in type validations, making it unsuitable for scripts.
Inbuilt Security Tools
In PHP CodeIgniter website development facilities, excluding slashes when recovering data from the database is a common practice. Due to built-in security tools, these patches are interpreted in default settings. When feeding to a query, these default settings fix the database problem by disabling the runtime guidelines for magic quotes. Thanks to these useful features, the CodeIgniter website development process is quick and easy for developers.
Error Handling
During the CodeIgniter website development process, developers who use the CodeIgniter web application development framework may find it easier to access error reports. The framework also supports the saving of debugging messages as text files with error logging class instructions. This feature is extremely useful for programmers.
Database Caching Class
The following easy steps can be found for the cache. Reduce loading by storing text file queries.
Build a writeable directory on the server that stores and saves cache files
Set the path to the cache folder in the application/config/database.php file
You can turn on the caching function globally or manually in the application/config/databank.php file.
Since CodeIgniter has a simple integration feature, cutting-edge web applications developed with it can help businesses all over the world, making it the most preferred web platform for developers.
How to find a skilled team to outsource Codeigniter development?
Codeigniter is a popular open-source PHP web application framework. It's a powerful and flexible tool for experienced programmers, but it's also a great option for beginners.
In this section there are some tips on how to find codeigniter developers:
You should look into their online portfolio and check the quality of their projects as well as the number of projects that they have done in the past. You can also ask them about what type of freelance jobs they prefer, or if they prefer working with one company or multiple clients at once.
Conclusion
Codeigniter framework is a popular PHP-based web application platform for building high-quality web apps, websites, content management systems, and e-commerce stores. The framework combines a highly immersive interface with a collection of simple tools to make it ideal for developers. Codeigniter is a common option due to additional features such as simplicity, versatility, and security. If you want to have a smart and vibrating web application, you should use CodeIgniter website development