7 Ways to Developing Machine Learning Strategy for Business
If you've succumbed to the hype around machine learning, you've likely heard hundreds of ML evangelists claim that data-driven decision-making is inevitable for companies that want to thrive in the near future. And a number of questions will arise as you consider how to employ the technology in your business. Can it significantly aid in reducing costs or increasing revenue? How can you estimate return on investment? Can you leverage the existing data to yield game-changing insights? Should you even try to get on that train right now?
What's so special about machine learning
The concept of machine learning was conceived about 50 years ago with the idea of making computers learn as humans do. As the field evolved, it gave us a means to find useful patterns in large amounts of data.
The way to address this is to apply an algorithm which would differ from the diligent but narrow "if-then" programs that we're used to dealing with. Machine learning isn't limited to narrow-task execution. An engineer doesn't have to compose a set of rules for the program to follow. Instead, a machine can devise its own model of finding the patterns after being "fed" a set of training examples. Dealing with a "black box" of that sort–where a human is only concerned about inputs and outputs–brings an almost unlimited variety of application opportunities, from recognizing cats in pictures to tracking body functions that yield individual treatment programs.
The reason machine learning is only now topping the list of tech buzzwords is that just recently we've achieved computational power enough to process big data: huge and unstructured data sets with possibly thousands of variables instead of small and well-filtered ones. Much talked-about AlphaGo, which has recently beaten a human grandmaster at the ancient game of Go, is just one of the examples.
Defining how machine learning is going to be the gamechanger for your business isn't as trivial a task of simply putting the data into the black box and waiting for a magical insights sheet to roll into your printer tray. While you can utilize the approach to get insights about one or a handful of operations in a company, tangible changes happen only if the adoption is backed by a strategy. The strategy should be introduced and guided at the C-suite level, and a number talent acquisitions should be made to support this strategy adoption.
Step 1. Articulate the problem
There are generally two types of companies that engage in machine learning: those that build applications with a trained ML model inside as their core business proposition and those that apply ML to enhance existing business workflows. In the latter case, articulating the problem will be the initial challenge. Reducing the cost or increasing revenue should be narrowed down to the point when it becomes solvable by acquiring the right data.
For instance, if you want to reduce the churn rate, data might help you detect users with a high "fly risk" by analyzing their activities on a website, a SaaS application, or even social media. Although you can rely on conventional metrics and make assumptions, the algorithm may unravel hidden dependencies between the data in users' profiles and the likelihood to leave.
Here's another example. While it's relatively easy to estimate performance scores in a sphere of production, can you understand, for instance, how salespeople perform? Technically, they send emails, set calls, and participate in conferences, all of which somehow result in revenue or the lack thereof. People.ai is a startup that tries to address the problem by making a machine-learning algorithm to track all the sales data, including emails, calls, and conferences, to come up with the most productive sales scenarios.
The bottom line here is to define the problem where standard business logic and the set of rules aren't sufficient to solve it. Use machine learning when decisions heavily rely on the subjective opinion of an analyst or a decision-maker.
Applied predictive analytics is a broader variety of techniques that anticipate outcomes by leveraging data. While machine learning is one approach to realize predictive analysis, the current landscape of areas where it acts as a strategical reinforcement to business processes is quite broad, from content recommendations to healthcare.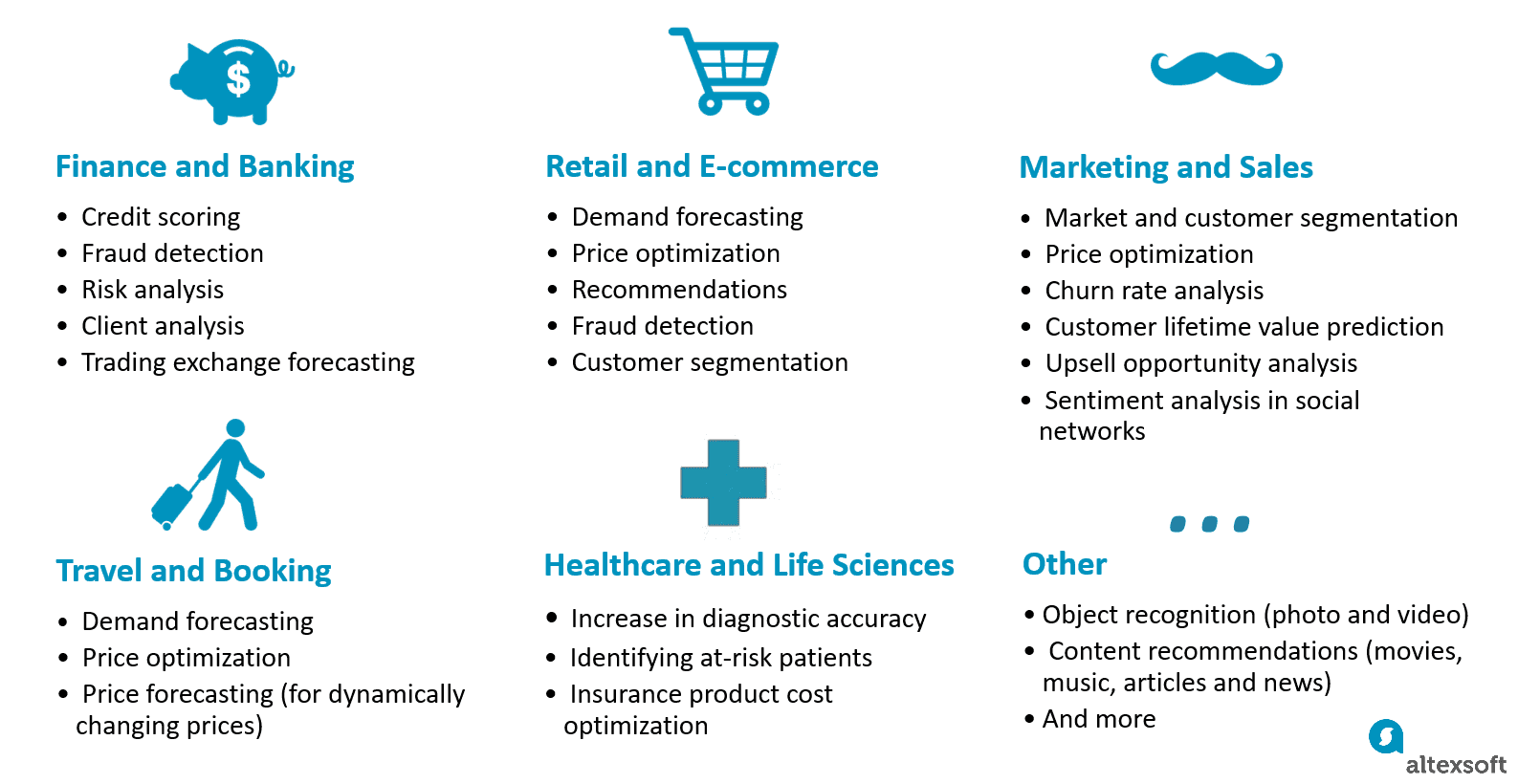 Step 2. Consider the prescription
The most advanced issue of developing predictive analytics strategy is whether you can find the right prescription based on the received knowledge. In other words, what are you going to do with the insights you obtain? Can you automate the decision-making in this case? McKinsey disclosed story of an international bank that was concerned about the number of defaults that some of their clients experienced. By means of machine learning, they managed to detect a group of customers that had suddenly switched from spending money during the day to use their bank cards in the middle of the night. This behavioral pattern closely correlated with the default risk as the bank later discovered that the people from the group were coping with a recent stressful experience. The prescription was to offer financial advice to the people from the risk group and establish new credit limits for these customers. In some cases, coming up with such prescriptions would be much harder or it would involve a course of actions that can't be automated at all.
Moreover, insights that you will get may inspire the prescription measures that you could never think before unraveling hidden dependencies in your data.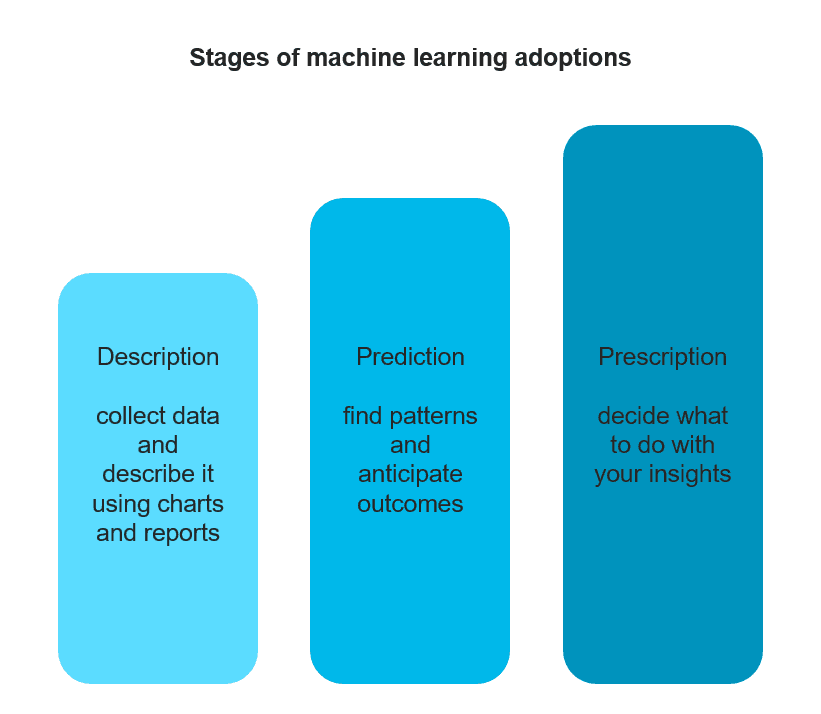 Source: http://www.mckinsey.com/industries/high-tech/our-insights/an-executives-guide-to-machine-learning
Step 3. Ensure that the quality of your data is good enough
Data science is a broad field of practices aimed at extracting valuable insights from data in any form. And we believe that using data science in decision-making is a better way to avoid bias. However, that may be trickier than you think. Even Google has recently fallen into a trap of showing more prestigious jobs to men in their ads than to women. Obviously, it's not that Google data scientists are sexist, but rather the data that the algorithm uses are biased because it was collected from our interactions with the web.
Qualify your data and decide the minimum prediction accuracy
Basically, the quality of the data you have or can collect will define whether it may be used to build the algorithm. Data can be noisy; some information can be conflicting, biased, or just missing. To qualify your data set for further model development, you'll need to involve a technical consultant or a data scientist in the early stages. This will allow for data testing and setting the minimum acceptable prediction accuracy. Here's something to note: Although business decision-makers look for concrete recommendations, data science can only provide relative figures. So, deciding the minimum degree of confidence acceptable for solving a business problem will be on top of the importance list.
In one of our projects involving fare prediction analysis in booking air tickets, we were challenged to design an algorithm which would forecast flight fares, both short and long term forecasts. Seventy-five percent of prediction accuracy was high enough to support customers with booking recommendations.
Be ready to break down silos, anonymize, and share data
One of the hurdles that our data science team regularly faces is access to data at the stage of project negotiation. While understanding the initial costs are critical for any business that decided to embark on predictive analytics, it's nearly impossible to estimate the accuracy level and price without seeing actual data. That's the point when negotiations can be paralyzed by the catch-22 problem. Business executives can't give away the sensitive customer or business-related information to a technical consultant, while a consultant can't give definitive answers before seeing data.
We usually offer to provide a subset instead of the whole database and anonymize it beforehand. Even for the companies having a data scientist on board, it's a common management challenge to share data among different departments. An overregulated information policy or just hoarding of data across departments can really slow down the process. That's why data science adoption should be introduced and guided on the higher management level.
Good news: Data can be fixed
Even if your data set is messy and unstructured, it's not necessarily a death sentence for your data science initiative. Today, data scientists are well equipped with a number of practices to apply during the preparation stage to restructure, clean your data set, and further optimize it for efficient modeling.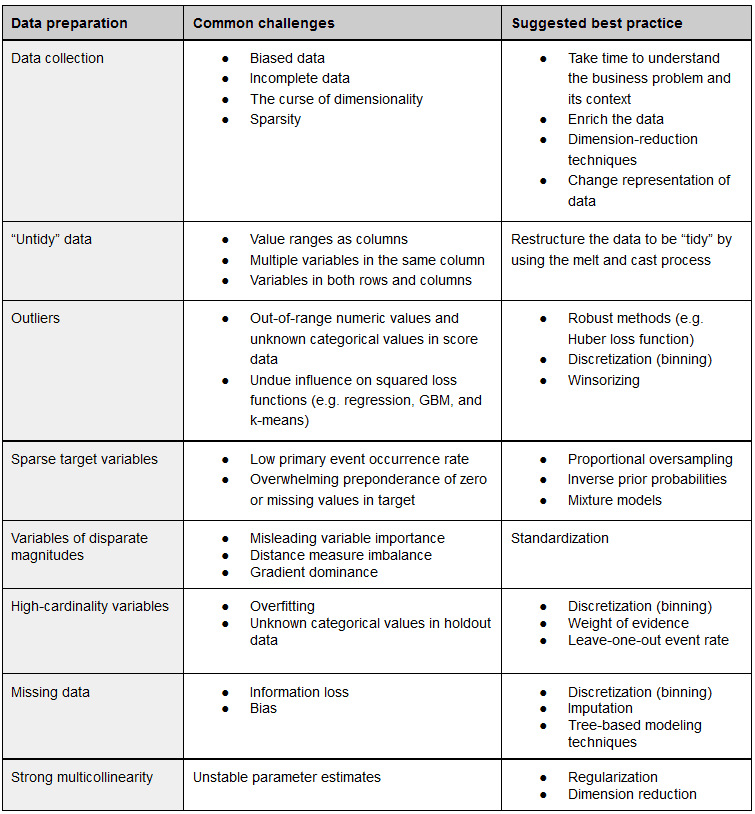 Source: O'Reilly, The Evolution of Analytics
The bad news here is that a data scientist may require quite a while to complete data cleansing and proceed to the modeling stage. Should you try handling it yourself in advance without having proper expertise? The general answer is no. It's very likely that your data set will need refactoring anyway.
Step 4. Prepare to bridge the gap between technical and business vision
If you ask data scientists about their favorite and most useful algorithms, you'll likely hear something about boosted decision trees, artificial neural networks, kernel methods, principal component analysis, etc. Thus, you may hire a brilliant data scientist who's still going to have a hard time translating complex results into concrete business language. On the other hand, a chief marketing officer (CMO) may lack the technical background to convert figures given as probabilities into monetary terms.
According to a recent SAS paper, many organizations have already recognized the need to introduce a chief analytics officer to their corporate frameworks. The person should have both business and tech expertise to lead the data science initiatives, envision the options to scale the machine learning application and reconcile business and technical vision.
Otherwise, your data scientists should be ready to educate decision-makers on the opportunities and limitations that different ML models present.
Step 5. Explore the options to hire the right talent
One of the most popular courses at Stanford is machine learning. And back in 2012, the Harvard Business Review regarded a data scientist to be "the sexiest job of 21st century." Yet there have been a lot of talk about the shortage of data-science talent over the past few years. McKinsey theorizes that by 2017 the demand for this expertise will be 60 percent higher than supply. No matter whether this prediction is true, the profession is extremely hyped. If you operate from New York City or Silicon Valley, the starting salary for a data scientist will be about $200,000, as stated by Bloomberg.
What makes data scientists so scarce and valuable is the blistering change in the technological landscape that outstrips educational capacities. Moreover, being a data scientist requires a rare skillset combination at the junction of math, statistics, programming, databases, and domain expertise.
So, here is the challenge. What are the options?
Hire a data scientist and be ready to engage
If you aren't operating in a metro area such as New York City or Silicon Valley, the median salary will be about $104,000, which is nearly double the average salary for a regular programmer. Not only do experienced data scientists have higher price tags, they will demand creative work to stay engaged, which often conflicts with the siloed department structures of many organizations.
Homegrown specialists
To leverage the talent that you already have, you'll inevitably need a data scientist to take a leadership role. This also can be addressed by building or acquiring a machine learning platform with a friendly interface that would be approachable to a wider range of specialists within your organization. That way, you'll be able to scale from one or a handful of people to a larger group of experts. Have a look at our data science team structures guide to get a better idea of roles distribution.
Find a vendor team
Outsourcing several operations to external experts became a common practice a long time ago. But unlike generic programming that so many vendors can do, data science and machine learning outsourcing haven't yet overcome the threshold of trust. The biggest challenge of outsourcing machine learning tasks is to align corporate limitations of sharing data with external expert assistance. Depending on the type of data you have, you may need to anonymize it in a way that it doesn't reveal sensitive details, like customer contacts, their location, etc. You should also keep in mind that an anonymized data set doesn't allow an analyst to enrich it by using external sources or applying his/her own understanding of a problem to build a more efficient model.
Build relationships with educational institutions
In the US, there are about a dozen Ph.D. data science programs available at universities and nearly the same number of computer science programs that are actively emphasizing data science. Another popular way to fill the skills gap is boot camps where attendees take 12-month or so courses. This option seems very promising for companies that aren't ready to invest into hiring experienced experts, though you should always consider additional internal training to accumulate essential domain expertise.
Step 6. Models become dated, be ready to iterate
Most of the models are developed on a static subset of data, and they capture the conditions of the time frame when the data were collected. Once you have a model or a number of them deployed, they become dated over time and provide less accurate predictions. Depending on how actively the trends in your business environment change, you should more or less frequently replace models or retrain them. There are two basic approaches to that:
Challenger testing. When the existing model is assumed to become less accurate, a new challenger model is introduced and tested against the deployed model. The old model is removed once the new one outperforms it. Then the process is repeated.
Online updates. The parameters of a model are changed under the continuous flow of new data.
So, if you want to retain your predictive analytics on the same level of accuracy, having occasional or short-term data science services is not an option.
Step 7. Decide whether you need a custom-built algorithm
Building custom data models, their deployment, and further iterative development may be a serious financial and management burden for small and midsize businesses. Using algorithms that are shipped off the shelf is a viable option if you're looking for common prediction tasks. Large product developers like Hitachi are already preparing blueprints and even solutions to support the industries they're focusing on. Having an out-of-the-box algorithm doesn't necessarily mean you won't have to customize it to align with business objectives, but it might greatly reduce the financial difficulties.
Salesforce, for instance, is offering artificial intelligence instruments that can communicate with their existing cloud solutions. The previously mentioned people.ai service along with Azure Machine Learning, Google Prediction API, and IBM Watson Analytics can be integrated with the most popular CRMs like Salesforce, Hubspot, Zoho, and some others. Guesswork offers ecommerce companies better understanding of customers by analyzing various collected data and providing tailored experiences. It integrates with ecommerce sites and can predict which visitors are more prone to conversion or it lets you tailor a newsletter to each customer. Ultimately, you can apply to Algorithmia, a marketplace of pre-built algorithms that communicate with software through REST APIs.
Is it the right time to adopt Machine Learning?
In one of his novels, Hemingway described how a man goes broke "gradually and then suddenly." The passage aptly reflects the way machine learning progresses. Today, it's on the top of the hype cycle, and, consistent with Gartner, the mainstream adoption will happen in 2 to 5 years. Early adopters are already actively testing and iterating to reach a high productivity stage.
In a course of a few years, it's likely that having a data science department will be the definitive point of competition in a wide range of business verticals, as CRM systems became years ago.
How can you Protect your Business from Fraud?
Financial fraud has been on the rise in the U.S. and affecting even small businesses. It occurs when someone deprives you or your business of money that financially harms your venture, small or big. Generally, this is through deceptive, misleading, and other illegal undertakings.
The back office is one of the common types of financial frauds and includes unaccounted for expenses, an indirect transfer of wealth, fake checks, and undertaking illicit business upgrades. Fraud experts cite the lasting effects of cutback and recession that have reduced financial balances, checks, and self-satisfaction as the key contributing factors.
According to Joseph Wells, who is the founder of the Association of Certified Fraud Examiners, there are a number of risk factors that contribute to fraud in small businesses. They include:
Insufficient financial control concerning how cash is used, improper record-keeping, and bank accounts are handled.
Inadequate selection of workers during the hiring process. Employers are not doing enough background checks before hiring.
Trusting the wrong person. What makes small businesses succeed is also the home of fraudulent people who will do anything to harm the business.
A recent study by TD Bank of small businesses owners shows that 75% are taking specific steps to protect their ventures against financial fraud. However, a good number aren't doing enough to excel in their endeavors.
According to Robert Dunlop, head of Corporate Security and Investigations at the bank, they have to be cautious. With the advent of and surge in new technologies that small business owners settle for, it is important to be well-acquainted with the latest technologies in use. They have to be wary of techniques criminals use and be careful in keeping their businesses safe from fraud.
There are incredible tips to protect businesses against financial fraud they should be well-versed with. And they include:
Make Use of Financial Balances and Checks
Business owners should take time and conduct an internal review of their finances on a monthly basis. Amount used to make payment should match what they have in recorded invoices, and checking for missing documents should be mandatory. Undertaking random audits or hiring professional auditors will help keep employees alert about the consequences of any form of financial fraud. These will keep away would-be fraudsters in the business premises.
Secure Computer Systems and Practice Website Awareness
Business owners need to be well-versed with cyber protection. Many small businesses have fallen victim to cybercrime. The computer system you use should be well-protected with the latest antivirus software and firewalls.
Phishing is a common technique used by fraudsters to obtain business private information. It's a technique that uses a form of an email to obtain confidential data. Most of them are easy to notice as they appear to contain legitimate addresses or certain titles, but they are all fraudulent.
Protect Sensitive Hard Copy Documents
The digital area is not the only area that is prone or exposed to information breaches. Employees or competitors can still use important data and use it against your business. These will include things like checks, credit card information, or emails.
Mr. Dunlop emphasizes business owners should be wary of the documents they leave behind with photocopiers as they might get into the wrong hands. If you have to sell a copier they have to make sure no important documents are saved in the hard drives.
Opt for Safe Online Banking Platform
Online banking offers a means to safely undertake transactions and keep your financial details safe. Major and reputable banks use numerous security options to keep their customers information safe. Security options that online banking offers include real-time information, better customer care on 24/7 basis, secure payment, and account transfers.
Invest in Proper Insurance
Businesses need to invest in top-notch insurance policies that protect them from losing money due to back-office fraud. Go for an insurance policy that protects your business against theft, forgery, embezzlement, and credit card scam.
Why Business Should Rely on Spokeo Protect
When undertaking background checks, you will need a platform or options that will ensure you undertake an efficient process. Spokeo is a standout that has transformed many companies. With Spokeo Protect you can safely undertake social searches without any worries.
It makes it easy and effective to use phone number search features that make it easy to search people's backgrounds stress-free.
You will rest assured that you have the right information about an individual using phone number, email, name and address. With Spokeo connection among other features, you get a chance to get connected with all your friends' social media profiles and in one place.
There are incredible ways to curb business fraud. Many business owners trust their employees and associates that they don't even protect their confidential data. But why stress where there is an incredible way to check the kind of people you are working with and their records. Spokeo is a one-of-a-kind option that organizes every information you need about a worker, business or consumer you deal with each day.
How to Find and Rent a Dedicated Server?
We met on the Internet. This site you are now on is the result of two technologies: domain and hosting. In this article, I want to cover issues related to the second technology. Hosting has long ceased to be just a place to store static information. Today it is a complex of complex solutions in the center of which is the work of the server.
On the Tech market, there are two solutions for server rental – a shared server and a dedicated server.
In this article, I will talk about the details of a dedicated server rental and finding a good provider.
Things to Consider When Selecting a Dedicated Server
Determine the performance requirements. Each company has its own requirements for server productivity: constant user load, computing processes, work with large files. Depending on these figures will be selected equipment configuration of your server.
Take into account possible downtime. In this era of e-commerce and SaaS services, a minute of server downtime can cost a company a huge amount of money. It is worth examining the provider's uptime figures to assess the potential risks.
Check network quality. The quality of the signal between the server and your users depends directly on the bandwidth of the Internet channel and the distance. If your users are in Europe, then choose a server in the Netherlands or Germany.
What factors are crucial for server rent?
Security remains a major concern for most businesses in this age of technology. Due to the significant amount of customer information on the line, security features are a priority when choosing a dedicated server. You should only consider working with service providers that consider security a service.
Stable security features
When choosing a dedicated server, security should come first, given that there is personal information that you are likely to share with your customers. You need to consider all possible mitigation measures taken by the dedicated server provider in the event of an unexpected data security breach.
Over the past two decades, there has been a growing concern about the number of data privacy breaches at the corporate level. The impact of data breaches is so great that nearly 60 percent of hacked businesses shut down within six months of such incidents. Your data is most vulnerable when downtime occurs on dedicated servers.
You should be passionate enough to question your potential hosting provider's own physical and virtual security considerations. Your provider should make sure they always have the right firewalls, intrusion protection, malware, and virus protection measures in place. Such hosting providers should also have robust spam filtering techniques to ensure data security.
Technological advancements
Change is the only constant in this age of technology. It would help to consider all the potential technological dynamics in the future when choosing a dedicated server. First, think about the compatibility of the operating system with your server. You also need to make sure that your potential server has enough RAM to cover all of your future tasks and needs.
What should be paid attention first?
When choosing a new provider, I always focus on budget and service. The budget is important for any start-up project when the turnover has not yet grown. And the level of service is very important because it directly affects the desire to use the provider's services.
In the world of technology solutions, there are many examples of projects with good service. They all win the hearts of their users.
Why do you need to choose server rent from Deltahost?
I found a good solution for renting a dedicated server. Deltahost has its own equipment in many data centers around the world. Technical support boasts fast response times and 24/7 support.
How much does it cost to rent a dedicated server?
The average cost of renting a dedicated server for a small business is $100 to $200 per month. You can also install a cloud server for as little as $5 a month, but most businesses will spend about $40 a month to have enough resources. If you want to buy a server for your office, it can cost anywhere from $1,000 to $3,000 for a small business.
Main Features of Trading in the Future
The capitalization of the cryptocurrency market is higher than the budget of some states. This opens up great opportunities for making money on virtual money. Cryptocurrency trading is one of the most promising ways to make a profit, along with mining.
The Future of Trading Technology
Cryptocurrency has been promising to change the way the world does finance for over a decade. However, only now has the technology really caught up to expectations. Trading is now done all over the world using blockchain technology. More importantly, it has now gone beyond just trading cryptocurrencies and extended to traditional assets trading too.
Here's an overview of the future of trading technology that's being built right now and the features you can expect to rule trading.
What Is Cryptocurrency Trading?
Cryptocurrency trading is simply the buying and selling of cryptocurrency tokens. It's not too different from other forms of trading like precious metals, currencies, and stocks. The goal of trading is to buy low and sell high to make a profit. You can do this in several ways, but the most popular is to use a specially built cryptocurrency exchange.
There is one big difference, however. The cryptocurrency market is extremely volatile, probably the most volatile market that's ever existed. The price of a cryptocurrency can both skyrocket and tank at a moment's notice. That's what makes it so exciting for many traders.
Features of Investing in Cryptocurrency
Out of the 11,000+ cryptocurrencies in existence, Bitcoin trading is still the most popular. It's been revolutionizing the investment world for the last decade with its groundbreaking features.
The first is its truly limited supply. There are a total of 21 million bitcoins that will ever exist, and that's it. Some are locked away and will be distributed to miners over time, but nobody can ever create more than that. Supply and demand determine the price, and as the demand has been growing while the supply stayed constant, the price has been going up. This is why so many investors are so excited to risk their money to invest in Bitcoin.
On top of long-term investment prospects, cryptocurrency is great for day-trading too. There are very low costs and barriers to entry compared to other traditional markets. It means people all over the world are trading and betting on the price of cryptocurrencies day-to-day.
There is another unique way to earn money with cryptocurrency called mining. It is the process of using the processing power of your computer to help secure the Bitcoin (or another crypto) network. It's difficult to get into crypto mining, but it's extremely profitable if you can get it right.
Trading With Tokenized Assets
One of the key innovations of blockchain technology is tokens. These are unique digital assets that live on the blockchain such as Bitcoin or Ethereum. They are cryptographically secure, can be traded instantly and seamlessly anywhere in the world, and can represent any kind of asset in the real world. That last point is important.
These new kinds of digital assets are being used to trade all kinds of real-world items. For example, Tether is a digital token that's pegged to the US Dollar. One Tether token has the same value as one US Dollar. But, unlike US Dollars, Tether tokens can be traded instantly and almost free across the globe on cryptocurrency networks.
The same principle applies to other valuable things. You can invest in gold-backed cryptocurrencies to gain exposure to the gold price on the blockchain. Many cryptocurrency startups are issuing shares as tokens. You no longer need to be an accredited investor to profit from the rise of these new companies. You simply log in to crypto exchange and buy that startup's tokenized shares.
There are places you can even buy stocks of such companies as Tesla, Amazon, and Apple. However, this trend has caught on so quickly that regulators are getting worried it's causing risks for the whole stock market.
Despite the challenges, this new way of trading is extremely popular and is expected to keep growing. 
Is it profitable to mine crypto in 2021?
Vote!
Drag the slider and make your voice heard.
Vote!
Drag the slider and make your voice heard.
Sorry.
Exceeded the limit of votes from one IP.
Features of Trading Technologies
Tokenized assets trading can give you the same profit as traditional investment trading, but, with a few additional benefits, too.
First, trading traditional investments as tokens allows you to trade your crypto and other assets on the same platform. You can keep track of your whole portfolio of bitcoin, crypto, tokens, gold, shares, and anything else all in the same dashboard. It makes the trading experience easy and seamless, but it also helps you keep track of everything in a uniform way to reduce your risk of bias or of missing something important.
The second feature is security. When you buy a tokenized asset, you don't just open a position on that asset. You receive a protected token on the blockchain. However, you do need to understand one thing. Digital tokens backed by currencies, stocks, or other assets are only as good as the organization that underpins them. For example, Tether is an incredible digital token that makes it seamless to trade US Dollars, and these tokens are safe in ways that US Dollars aren't. However, they also rely on the trust and competence of the people who run the Tether project. If the whole Tether project were to collapse, you could own a Tether token that could be worth 0 dollars instead of 1.
Last are the tools. There are countless crypto trading platforms and apps being developed as we speak. Many of them have advanced features built-in that only the top traders had access to a few years ago. Now, anyone can open an account and take advantage of advanced trading dashboards, statistics, charts, algorithms, and more.
The Future Is Now
Tokenized trading has already changed the way we think about trading and investing. It's brought the world of finance, previously limited to a select group with special access, to the entire world. Now, anyone can buy, sell, and trade almost any asset. Moreover, they can trade faster, cheaper, and more broadly than traditional investors could ever dream to. And, the technological tools being developed are helping them do it in a sophisticated way.
This future world of trading is opening up right now. Will you take advantage of it?