How Cloud Computing is Changing Remote Work
The pandemic in 2020 created a situation where organizations had to move their employees from the office to a remote environment.
In fact, cloud infrastructure spending reached $29 billion in the first quarter according to Synergy Research Group. This was up 37 percent over last year's spending.
The abrupt shift caused companies who were skeptical of remote work to recognize the practicality of working remotely. Working from home boosts productivity, eliminates the need to commute to and from work and it enables work from any area with a secure internet connection.
These benefits have encouraged companies to continue remote work even as shelter-in-place orders start to relax. However, in order to successfully operate remotely, companies across the world will need to rely heavily on the cloud to maximize efficiency and security.
Accessibility
Normally, organizations with their own data centers need to periodically take their network offline for maintenance. However, cloud services allow remote employees 24-hour access to data and information they need to work effectively.
Scalability
What do we mean when we say scalability? When it comes to the cloud, scalability is either horizontal or vertical.
Horizontal scaling means adding more physical servers that divide the workload to prevent one server from being overwhelmed with requests.
Vertical scaling means adding more input/ output resources to a server memory, and CPU.
Third-party cloud providers also have all the vast hardware and software resources already in place to allow for rapid scaling that an individual business could not achieve cost-effectively on its own.
Virtualization
Scalability on the cloud is achieved through virtualization. That means virtual machines take the place of physical ones. Virtual machines are more flexible and can be scaled up and down precisely because they aren't physical.
They can be moved to another server or hosted on various servers at the same time. Virtual machines can be adjusted according to the workload and applications being used.
For companies with in-house IT, they would need to purchase all of the right resources itself and it might not be cost effective.
Furthermore, the cloud enables business to quickly scale at their own pace. As businesses grow, they can accommodate more remote employees. Organizations can also scale their computing power according to their need. In fact, many IT support services supply companies with adjustable service fees every month.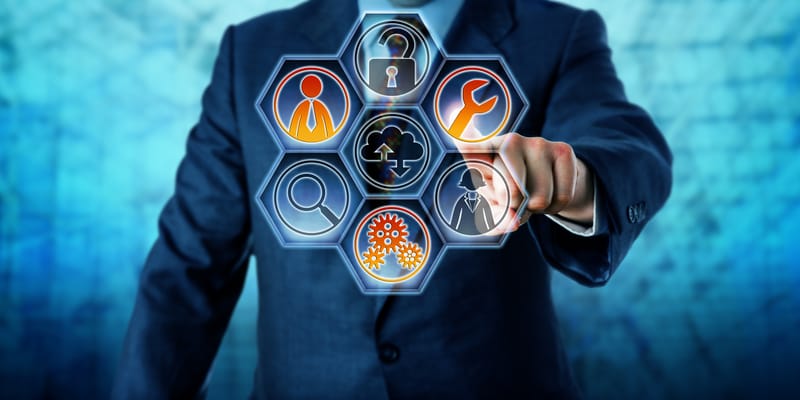 Security & Compliance
A reliance on a cloud based IT infrastructure means new threats as businesses pick up on the fact that cyber security has less to do with their physical computer anymore. In a cloud system user identity is prioritized to guarantee appropriate levels of access to important documentation and resources. Identity verification also protects against unauthorized users and malicious threats.
With the cloud administrators can establish policies to ensure employees have the appropriate permissions to access the right information. These settings can also be configured remotely so employees can work safely from home.
Highly regulated industries like healthcare, financial services, and education need to ensure data security. Cloud infrastructure in many cases include compliance tools that make it easier for organizations to manage sensitive client data. There are cloud applications like the ones used by Nerds Support that feature compliance checking scans to verify the security of the device as well.
How to Get the Most Out of Cloud Resources?
In order for companies to work effectively in a remote environment they have to understand how cloud operates. They will have to prioritize cloud security and compliance tools, and a cloud infrastructure based on virtual machines to support a remote workforce.
Which Cloud Security And Governance Controls To Prioritize
During the pandemic organizations operated with an IT infrastructure located on premise. Working remotely however, security is not about how strong a firewall your company has.
Companies will have to invest in Identity and access management (IAM) tools like multifactor authentication to truly benefit from the cloud. Understanding the cloud and the tools can help business owners and employees support a remote workforce that benefits everyone.
---
By Felipe Castilla
Xender-like app development
Xender – Share Music&Video Status Saver Transfer
Xender – best sharing app fulfilling all your transfer needs
☆ Share Music, Share Video &Share Photo, Share MV, Share It, Share Me, Share File
☆ Transfer All type of files (App, music, pdf, word, excel, zip, Folder..)in any places at any time
☆ Absolutely without mobile data usage
☆ 200 times Bluetooth transfer speed: Top WiFi File Transfer Master!
☆ Cross-Platform Supports: Android, IOS, Tizen, Windows, PC/ Mac
☆ No Need for USB connection or additional PC software
☆ The choice of 500 Million+ users
☆ Over 200 million files successfully transferred daily
☆ Play all music and videos right after receive
☆ New Feature [toMP3]: Convert Video to Audio
☆ Social Media Downloader: Save videos from Whatsapp, Facebook and Instagram
☆ Game Center –Hundreds of Casual Games available WithOUT install/ Download
Features of Xender App Can Be Clone
1. Allow to use as a File Manager.
2. Allow to handle cross-platform.
3. App Extractor is a kind of additional feature that enables the user to increase the using time.
4. Also suggest user to update the app will be a great help for the user.
5. Group sharing included with the app like Xender
6. Allow to clone your phone
7. Support with regional language too. Adding this feature is the most marketing aspects of the app. Such a feature increases the user rate.
Support and stay connected
Facebook: https://facebook.com/XenderApp
Twitter: https://twitter.com/XenderApp
Google+: https://plus.google.com/+AnMobi
Tumblr: https://www.tumblr.com/dashboard
Business books to read in 2021: top picks
The COVID pandemic has changed habits and reassigned priorities for all of us. There is, however, a segment of people whose natural way to treat crisis is to use the opportunities it offers: the entrepreneurs.
With an unprecedented economy stimulus coming from the U.S. Federal Reserve, the idea of starting new business (or investing in an existing one) became even more popular than previously. This, however, requires a certain level of preparation: you definitely don't want to learn on your own mistakes losing money. Thankfully, business and entrepreneurship is the field where there are tons of useful and inspiring books to learn from.
But how to navigate through those thousands of books and authors? Let's make an overview of the most in-demand business ebooks as of 2021.
Finance and Investments
Strongly recommended is "The Intelligent Investor" by Benjamin Graham, an eminent economist and investor of the 20th century. He has created a guide that has inspired millions of people around the world for 70 years. Since its first publication in 1949, the book has become a veritable bible of the stock market. The modern edition is supplemented by comments by financial journalist Jason Zweig, who draws parallels between Graham's examples and modern realities, and also provides a deeper understanding of how to adapt the author's philosophy to everyday life.
Internet Technology
The ITIL (Information Technology Infrastructure Library) is a framework for standardizing the selection, planning, provision, maintenance and the entire life cycle of IT services in a company. The goal is to improve efficiency and achieve predictable service delivery.
The ITIL books cover key concepts of service management, the four dimensions of service management, the ITIL service value system, and ITIL management practices.
Entrepreneurship
This is an extremely wide field of study, incorporating both motivational, inspiring books with those designed to improve hard skills. As for the first option, the "Money: Master the Game" by Tony Robbins keeps first place in our wish list.
Another must-read is "Think and grow rich" by Napoleon Hill. This bestseller was written in the end of the 20th century and has been reprinted over 40 times. In his book, the author has collected the stories of famous millionaires of his time who stubbornly went towards their goals.
What is The Full Form of PhD?
The full form of PhD is a Doctor of Philosophy or a Doctorate in Philosophy.
This is a postgraduate academic degree awarded to individuals who have gone through the process of studying and researching extensive subject matter in their field. It can be obtained from an accredited university and requires one to go through a research dissertation.
What Is The Meaning Of PHD?
PhD is a doctoral degree that takes the form of a research degree. It generally recommends a substantial amount of independent, original research and a formal defence of that research.
The word "Doctor" in the abbreviation PhD comes from Latin "doctor" which means "teacher". In other words, PhD holders are teachers who have done extensive teaching and research as demonstrated by their dissertation.
What Is The Abbreviation Of Doctorate of Philosophy?
PhD is the abbreviation for Doctorate of Philosophy.
Doctorate of Philosophy is a postgraduate degree that requires three to five years of study and research. The abbreviation for Doctorate of Philosophy is PhD.
Which is higher MD or PhD?
A person can be awarded with a Master of Science degree (MS) after completing course work and passing a series of written and oral exams. Master's degrees typically take one to three years to complete.
A PhD is a Doctoral Degree, which is the highest academic award in most countries. To earn a PhD in the US, students usually have to complete at least four years of study beyond an undergraduate degree.
Master's degrees are often seen as higher than Doctoral Degrees because they require more advanced subject knowledge and coursework.