TOP 45 Apache Cordova Development Tools (2021)
Apache Cordova is a mobile application development platform which allows you to create mobile apps using HTML5, JavaScript, and CSS3 through a set of Cordova development tools which are then turned into a native container allowing you to access the device functions of several platforms.
Apache Cordova is now one of the most popular and top frameworks for building cross-platform mobile apps as it allows developers to easily write one set of code which can then be published on nearly every platform out there.
To set off on your Apache Cordova development journey, check out Apache Cordova's "Get Started Fast" guide with all the information you need to embark on that journey and our blog post that lists the TOP Apache Cordova blogs, newsletters, and online communities.
You will also need some tools to help you get started, which is why we've compiled below the essential tools needed for Apache Cordova development.
Best 45 Apache Cordova Development Tools and Resources
Frameworks
IDE
CLI
Libraries
Testing Tools
Plugins
Apache Cordova Frameworks [8]
Adobe PhoneGap
PhoneGap is the original and most popular distribution of Apache Cordova. Turn your HTML, CSS and JavaScript into an app on your device in minutes using our simple desktop and developer apps.
Ionic is a front-end SDK for building cross-platform mobile apps. Built on top of Angular, Ionic also provides a platform for integrating services like push notifications and analytics.
Comprehensive cloud-powered and framework-agnostic set of tools Monaca supports both online and offline development, debugging with live-reload feature and cloud build experience.
Custom Elements-based HTML5 framework offers a large selection of components and responsive layout support. Onsen UI lets you create professionally designed multiplatform apps without acquiring additional skillset.
Cocoon is a Cordova based cloud service for building native HTML5 apps and games. Cocoon is focused on providing the best webview engines and features like Canvas+, JS encryption or a custom Developer App.
Framework7 is a free and open source mobile HTML framework for developing hybrid mobile apps or web apps with iOS & Android native look and feel.
Evothings Studio provides Cordova developers with a rapid development workflow, tutorials and example apps for the Internet of Things. Support for Bluetooth Low Energy (BLE) and other IoT related technologies.
Mobiscroll is a collection of cross-platform UI controls for delivering polished iOS, Android & Windows Phone apps. Framework agnostic, use it with plain Javascript, jQuery, Angular, React or Knockout.
Popular Apache Cordova IDEs [5]
Popular IDE for building cross-platform apps for Android, iOS, and Windows. Complete with advanced build and debugging support.
NetBeans 8.2
The NetBeans IDE 8.2 includes sample getting started apps, however it must be tweaked to properly manage plugins. NetBeans is a powerful and intuitive IDE that makes it easier to manage Cordova apps, but you'll still need to use the CLI anyway from time to time, such as to compile Release builds.
NetBeans require certain tweaking in order to avoid problems with the Cordova plugins. The built-in plugins manager will fail to install any plugin whatsoever
The Cordova Tools Visual Studio extension allows you to debug your code, find commands in the Command Palette, and use IntelliSense to browse objects, functions, and parameters in plugin APIs. This extension works with any Cordova-based project.
App Builder is a complete IDE for Microsoft Windows which allows to create HTML5 and native apps without programming knowledge. Offers dozens of controls and actions ready to be used in your apps and lot of app samples to learn it.
NSB/AppStudio is an IDE for webapps/native apps. One step install includes complete PhoneGap integration, plus Bootstrap, jQuery Mobile and jqWidgets. Drag and Drop Designer. Easy programming in JavaScript or BASIC. Windows and MacOS.
TOP Apache Cordova CLIs [5]
Apache Cordova's official command line tool.
The Cordova CLI runs on Node.js which is a JavaScript runtime built on Chrome's V8 JavaScript engine.
The Cordova CLI is distributed as an NPM package which is the package manager for JavaScript and the world's largest software registry.
A command line tool to install and uninstall plugins for use with Apache Cordova projects.
Command line tool for Apache Cordova contributors to manage Apache Cordova repositories, and to help with releases and pull requests.
Libraries for Cordova apps [6]
A unified JavaScript layer for Apache Cordova projects.
Contains npm modules used primarily by Cordova and plugman.
Exposes shared functionality used by cordova-lib and Cordova platforms.
This module is used for creating Cordova style projects. It also includes support for Cordova templates and can fetch templates from npm and git.
This package can be used to install and uninstall Node.js packages using npm.
This module can be used to serve up a Cordova application in the browser. It has no command-line, but rather is intended to be called using an API.
Apache Cordova Testing Tools
The cordova-plugin-test-framework plugin defines the interface for Cordova plugins to write tests and provides a test harness for actually running those tests.
Tests run directly inside existing Cordova projects, so you can rapidly switch between testing and development. You can also be sure that your test suite is testing the exact versions of plugins and platforms that your app is using.
Instabug is the top bug reporting tool for mobile apps. It provides the most useful metadata on the market and exceptional user support. It is also known for its "Shake to Send" feature, an intuitive user gesture that automatically activates bug reports from within the apps on which Instabug is installed.
With each bug report, Instabug automatically captures a screenshot that users can annotate by drawing on, blurring, and magnifying parts of it. Users can also attach further screenshots, voice notes, and screen recordings of the app to provide further context to their report. In addition, Instabug automatically sends detailed user data to developers, including the user steps needed to reproduce each bug, network request and console logs.
Apache Cordova Paramedic runs Cordova medic/buildbot tests locally.
Apache Cordova Mobile Spec Suite is a set of automated & manual tests that test Cordova core functionality.
TOP Apache Cordova Plugins
This plugin provides an implementation of an old version of the Battery Status Events API. It adds the three events batterystatus, batterycritical, and batterylow to the window object.
This plugin defines a global navigator.camera object, which provides an API for taking pictures and for choosing images from the system's image library.
This plugin defines a global device object, which describes the device's hardware and software.
This plugin provides access to some native dialog UI elements via a global navigator.notification object.
This plugin implements a File API allowing read/write access to files residing on the device.
This plugin provides information about the device's location, such as latitude and longitude. Common sources of location information include Global Positioning System (GPS) and location inferred from network signals such as IP address, RFID, WiFi, and Bluetooth MAC addresses, and GSM/CDMA cell IDs.
You can show helpful articles, videos, and web resources inside of your app. Users can view web pages without leaving your app.
This plugin provides the ability to record and play back audio files on a device.
This plugin provides access to the device's audio, image, and video capture capabilities.
This plugin provides an implementation of an old version of the Network Information API. It provides information about the device's cellular and wifi connection, and whether the device has an internet connection.
Cordova plugin to set/lock the screen orientation in a common way for iOS, Android, and windows-uwp. This plugin is based on Screen Orientation API so the API matches the current spec.
This plugin is required to work with splash screens. This plugin displays and hides a splash screen during application launch.
The StatusBar object provides some functions to customize the iOS and Android StatusBar.
This plugin provides a way to vibrate the device.
This plugin implements a whitelist policy for navigating the application webview on Cordova 4.0.
This plugin makes Cordova use the WKWebView component instead of the default UIWebView component and is installable only on a system with the iOS 9.0 SDK.
Apache Cordova Templates
A simple Apache Cordova Hello World application. This is used as the default app template when creating new projects.
This is a reference for building and publishing Cordova templates.
The best apps for Combining Photos on your iPhone/iPad
Look at The best 15 apps for Combine Photos/Pictures on your iPhone/iPad with iOS [Free or Paid]
…and Save your time
Most people have tons of photos stored on their devices at any one time, so why not take those photos and make something special out of them? This list of apps is dedicated to combining photos and what this means is that you can use multiple photos in one project in the form of a collage. Suddenly you can create a complete memory of that party, vacation, last day of school, or any other event.
What better way to put together with photos of loved ones, your pet, and your best friend?
Get for free on iPhone and iPad

Languages: English, French, German, Italian, Japanese, Korean, Portuguese, Russian, Simplified Chinese, Spanish, Traditional Chinese, Vietnamese
🔥🔥🔥 A+ Rank
Did you just get back from the perfect vacation, and now you can't pick which photos to share with family and friends? There's no need to pick when you've got the Pic Collage app. This one makes it possible to take those pictures and add them to the collage template to create something special that you can share on Twitter, Facebook, and Instagram. You can add all kinds of photo effects, borders, stickers, clip the photos, and plenty more. As far as where you can get your photos from you can import them from Facebook, Instagram, and your Photo Library.
Take all your favorite photos and make a collage of them
Add photo effects, borders, stickers, and clip the photos
Make use of the templates offered to combine photos
Import your photos from Facebook, Instagram, and your Photo Library
Share photos on Twitter, Facebook, and Instagram
Load for free on iOS & Android
🔥🔥 B Rank
One of the most popular collage makers available for iOS. Pic Stitch gives you the ability to not just combine photos together, but also videos. Users can choose from one of 300 collage layouts and 15 aspect ratios. The app is very intuitive and easy to use and gives the ability to add filters, music, and make edits to each component with a little tap here and a little swipe there. Social media integration allows users to share their final results via Facebook, Twitter, Instagram, Path, email, and more.
Combine photos and/or videos together
More than 300 layouts
Create a collage in one of 15 aspect ratios
Intuitive and easy to use
Social media integration to share the final result
Canva App – Photo Editing Combine
Pic Stitch – #1 Photo Collage Maker app review
Photo Grid – Collage Maker & FX Editor
Free on App Store for your iPhone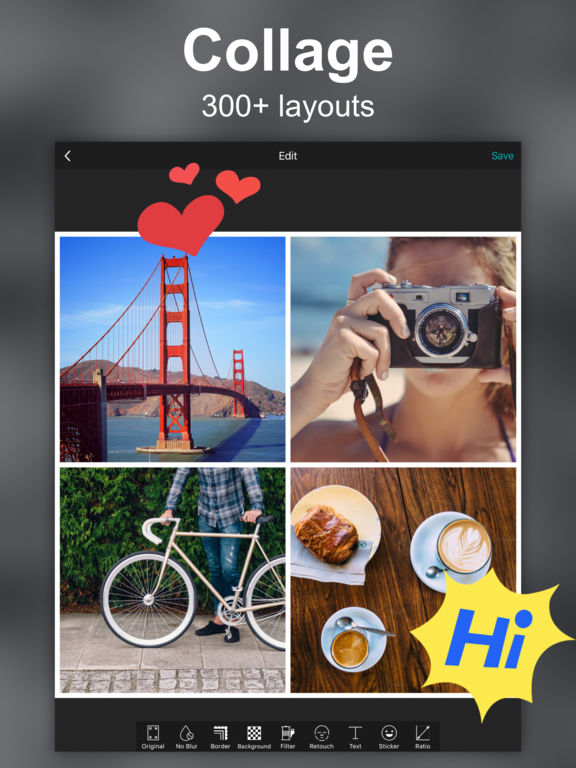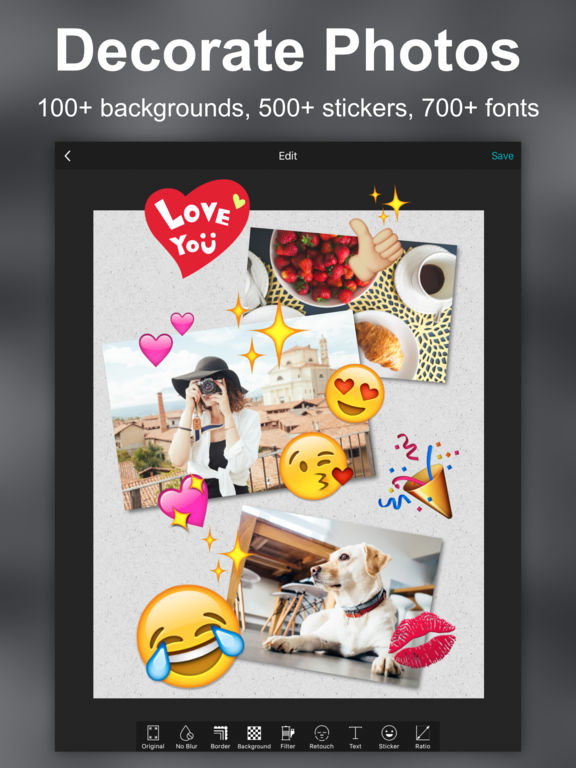 🔥🔥🔥 A+ Rank!
When an app has more than 100 million downloads then you know the developers are clearly on to something. That's exactly the case with the Photo Grid app. This one provides you with a way to make photo collages that you can then share on Instagram. Instead of just trying to get your message across with one picture now you can add a few. In fact there are more than 300 different layouts to choose from as you make use of the various editing functions. Add hashtags to your collages, text, a blur effect, stickers, and more.
The app has more than 100 million downloads
There are over 300 different layouts offering plenty of choice
Make use of hashtags, text, blur, and stickers
The app is user-friendly and quick to use
Share the creations on Instagram
🔥🔥🔥 A+ Rank
When it comes to professional-quality photo editing tools you'll find a wide variety in the Adobe Photoshop Mix app. This one makes it possible to enhance, merge, and remove sections of photos quickly and easily. You'll feel like an actual pro thanks to the advanced editing tools this one features. Of course all your results can be shared on social networks and you can also connect to the "Creative Cloud" should you decide to purchase the plan. This app is meant for the user who is looking to go further than the basic photo editing options.
The app offers a variety of advanced editing tools
This is meant for advanced photographers and editors
Results can be shared to social networks
You can save your work to the Creative Cloud
You can send photos to Photoshop CC on your desktop
Here for free on iOS
🔥🔥🔥 A+ Rank
FUSED makes it easy to allow you to blend photos, videos, or a combination of both. There are just four steps to making a beautiful piece of art. Import a background and foreground, swipe t o preview and then choose a Blend Mode, make color adjustments and apply masking if you want, and then export or save your finished piece. The user interface is simple to use, you get 20 real-time blending modes, it's easy to share directly to your favorite social media platforms, and the color adjustment tools give you lots of control over the blending process.
Layer your photos and videos
Optimized for iPhone 6 and 6 Plus
A variety of blending modes
Precise editing options
Free with in-app purchases
🔥🔥🔥 A+ Rank
LiveCollage is a fantastic photo editor and collage maker you will very quickly make your go-to app. You can combine up to 16 photos with more than 5,000 layouts and stitch photos together to create a photo story using stickers and text. You can pin moments to a customized board, turn your photos into art with over 500 borders, and stylize your snaps with filters, touch-up tools, and more. Make your collages as simple or elaborate as you like. Spend a few seconds or 15 minutes on each one; it's up to you!
Over 1000 layouts
More than 500 borders
Many stickers
Create amazing collages
Free iPhone app for combining photos
InstaCollage Pro – Pic Frame & Pic Caption for Instagram FREE App Review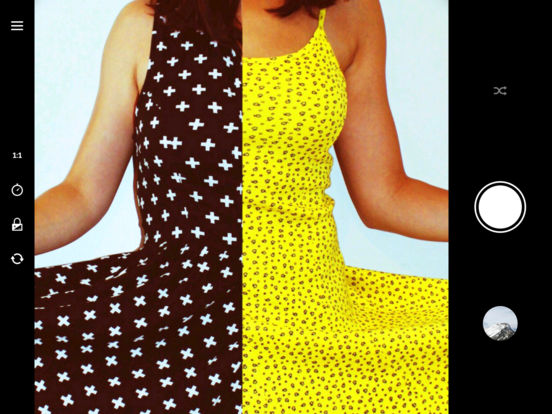 🔥🔥🔥 A+ Rank
Split Pic is another collage maker that allows you to do cloning effects. You can blend the images together, adjust the images, edit, and more. You have access to 14 custom photo filters as well. Any unfinished works get saved automatically and you can come back and work on it or save it and share it as-is. You can collaborate on photos with anyone in the world, too. You get access to stickers, designer effects, and exclusive artwork too. You can take photos in real time or upload from your camera roll. Split your camera into sections and create amazing art.
Lots of effects and color tools
Collaborate with friends
Apply stickers and artwork
14 custom photo filters
Free with in-app purchases
🔥🔥🔥 A+ Rank
BeFunky is a fun photo editor that lets you do whatever you want with your photos. It comes with a great selection of photo effects and editing options you won't find anywhere else. Create amazing collages with to nine photos and add text, backgrounds, and stickers. Have your choice from a huge amount of different fonts, backgrounds, and colors. Overlay shapes and patterns, and touch-up your photos with blemish fixer, teeth whitener, red eye reduction, flash spot remover, and more. Once you're satisfied with your creation, share with Flickr, Twitter, BeFunky, Facebook, Instagram, and/or Tumblr. Or save to your Camera Roll for use later.
Powerful editing tools
Combine photos for amazing collages
Fun photo effects
Goodies and stickers to use
Free with in-app purchases
BeFunky Photo Editor app review
Get for iOS or Android
🔥🔥🔥 A+ Rank
PicLab is another photo editor that lets you combine photos and add a wide array of artwork, typography, effects, filters, and more to your photos and then share them over different social media networks. There are currently 20 filters to use, with more promised. You can draw on your photos, create fun collages, add artwork and overlays, choose stickers, and create multiple text layers. There are more than 100 shapes, overlays, borders, light-leaks, and more. Use the hashtag #PicLab on Twitter and Instagram to see what the community has created.
Combine photos with your iPhone
Choose a theme
20 photo filters
Large collection of stickers, textures, shapes, borders, and more
Free with in-app purchases
Link: Positive & Negative Reviews: PicLab – Photo Editor app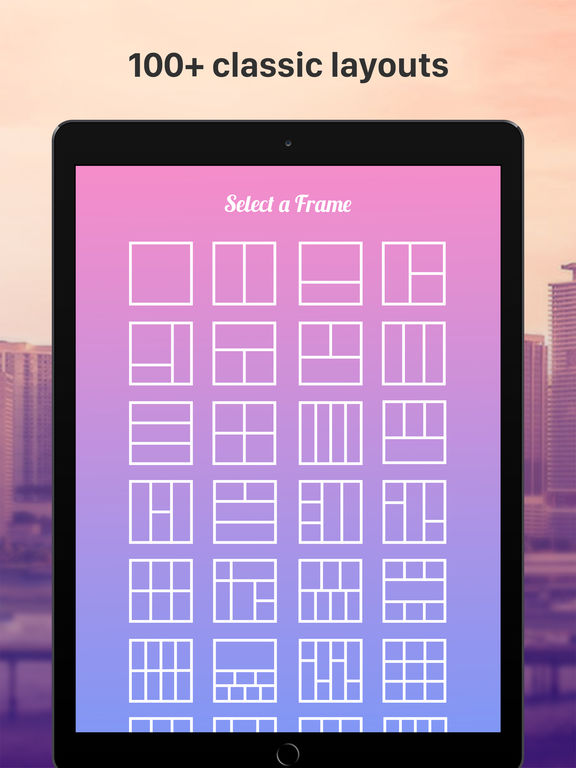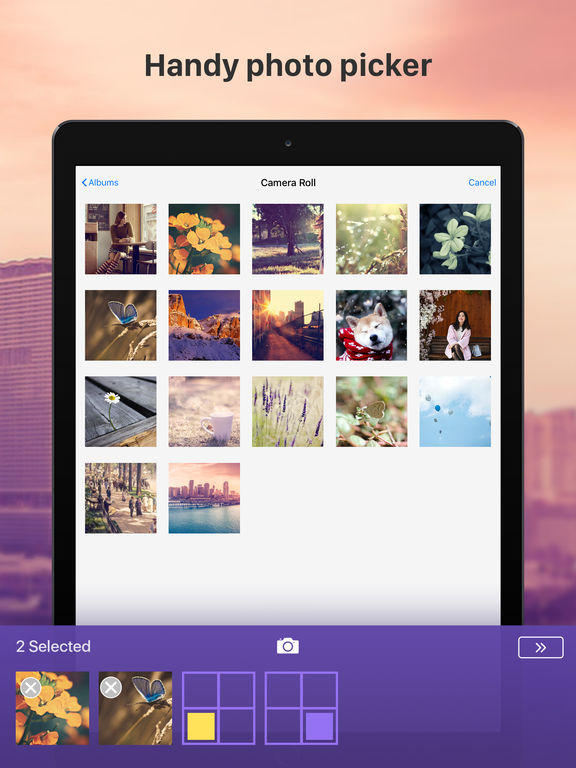 👎 "F" Rank
Collect your pictures and join them together with beautiful results by using the Pic Jointer app. This one makes it possible to use up to five photos in one collage and there are over 200 layouts for you to pick from. Each of the layouts is also customizable. Add frames to your creations and switch up the background and color. You can also customize the border of the frame. There are no watermarks on the collages and you can share your creation to Tumblr, Twitter, Facebook, and Instagram.
The app is user-friendly and promotes creativity
There are more than 200 layouts to pick from
Layouts offer customizable ratios
Share your creations to Tumblr, Twitter, Facebook, and Instagram
Adjust the border/frames with ease
Use up to five photos at a time
Pic Jointer app review: edit your photos and create stunning collages with ease
👎 "F" Rank
Have you ever noticed that a photo just looks way more complete and compelling once you add a frame to it? You will be able to add the perfect frame as well as layout thanks to the Framatic app. Features of this app include 36 different layouts that are customizable, 92 effects you can add to your picture, 32 different Instagram borders, and 40 patterns that you can use as your background. The list of editing tools goes on and on and you can even add text to your collage to finish it off. Of course your finished work can be shared to all the most popular social networks.
There are a large amount of customizable layouts to choose from
There are 92 different effects
Results can be shared to social networks
The editing tools are smooth, user-friendly, and don't need instructions
Framatic app review: create stunning framed picture compositionsShow comments (0)
The best photo organization apps for iPhone and iPad
If you are the kind of person who likes to take a lot of photos, and has hundreds or even thousands of images on your iOS device, then you will definitely want to consider using one of the apps in today's list. Below are some of the best photo organization apps for iPhone and iPad, offering all kinds of great features to make it easier than ever before to keep your pictures neat and tidy.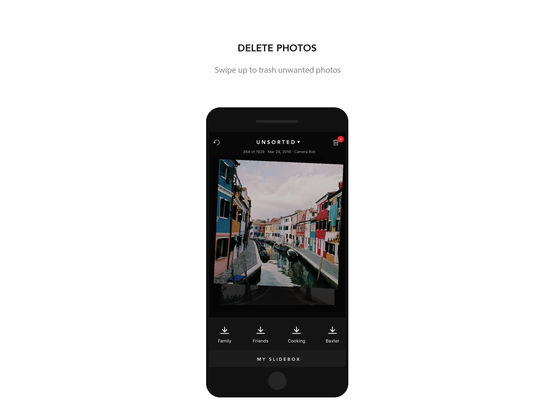 Slidebox is an app that helps you to organize your photos and pictures in an efficient manner. Quickly delete photos that you don't want with just one swipe. In one tap you can organize your photos. Entire albums can be sent via email. No account set-up or in-app purchases are required to use all of the features in this app. iCloud supported, photo comparison and easily save a photo to your iDevice's camera roll. It doesn't get any simpler than this app.
Free app, No in-app purchases required
Quickly delete photos with a swipe
Email entire photo albums
No account or set-up needed
Compare photos, Easily save photos
Get this photo merge app for free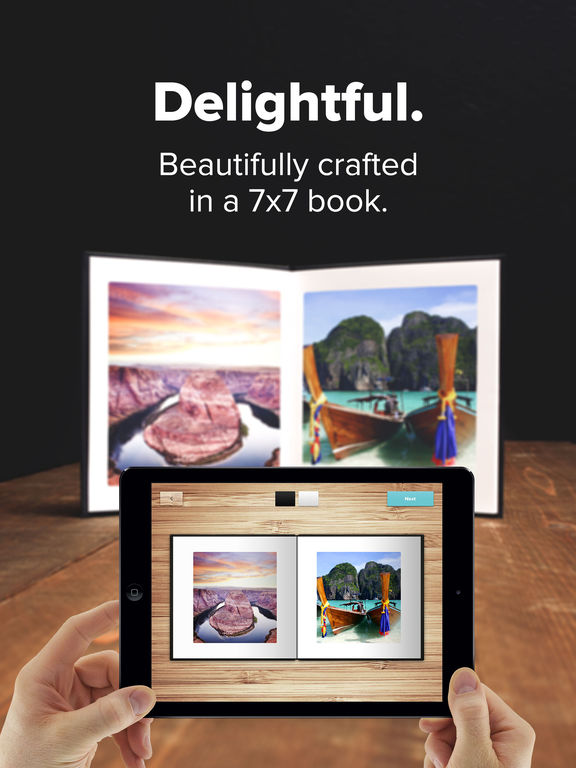 This photo merge app has been featured on a few major media outlets and praised by users. If you are looking to create photo books of your photos then look no further. We have the app for you. Make your book in minutes and have it delivered to your door in 4 days. Choose 20 pics, upload quickly, preview your photobook and you are done. For one flat fee, you get a beautiful looking 7×7 inch Mosaic photobook that preserves your photos and makes it easier for you to show others. Additionally, these photobooks make for wonderful gifts no matter the occasion.
Very simple to create photobooks
Choose 20 pics, Fast uploads, Preview photobook
Arrives in 4 days, Beautiful packaging
One flat fee for a 7×7 inch photobook
Makes for wonderful presents
MIKU is an app that turns your flawed pictures into high quality, professional-looking photos. Choose which of your photos needed editing, upload them into this app, select the types of edits needed, and within 2 hours you will have your photos completed by highly trained professionals. This photo editing service is great for those of you looking to create flawless images for work, Social Media or for printing. It's a very quick and simple process that can be done any time of the day. With MIKU, you no longer have to painstakingly try to stitch photos together, just connect with a professional and have them do it the right way.
MIKU Advantages
Connect with professionals to edit your images;
Choose, Upload and Receive edited photos within 2 hours;
Remove all imperfections and flaws within your photos;
Ideal for professionals or those who are printing photos;
Friendly, Fast and Budget Friendly service.
This is quite possibly the easiest way to send, share or receive group photos of you and your friends. A moment groups photos based on an event or friends in the photos. Then you can send the entire moment to whomever you want or grant access for others to add more photos to the moment. It's easy to use, great for organizing photos however you want and a nice tool to search through your photos quickly. You can save the photos they add to the moment right to your own iDevice. Create a slideshow and share it on FaceBook too.
Good for organizing photos of events, places or people
Send multiple photos at once
Allow others to access your moment
Easy for other to share photos within the moment
Save photos that others add right to your iDevice
Get for free on iOS&Android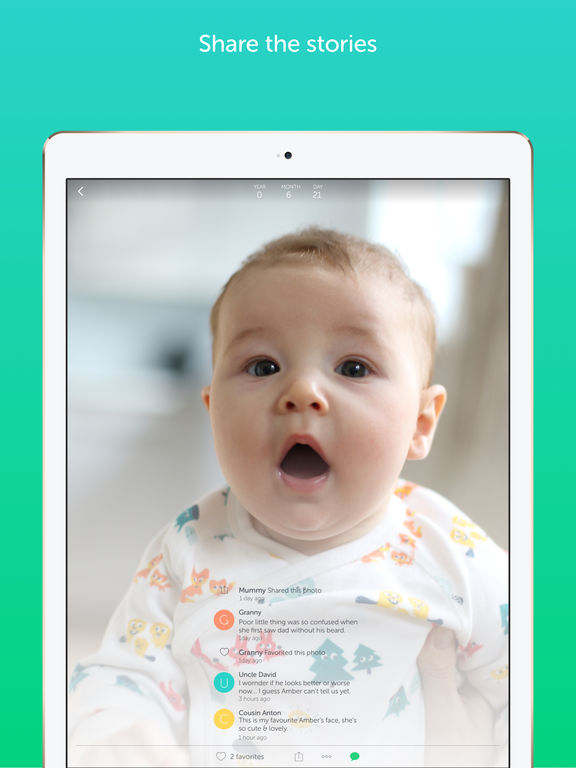 F – Rank App
Lifecake is designed to help parents keep track of those special, random or planned moments in the lives of their children. Enjoy photos across a timeline, combine photos, add photos from other sources, view a specific age along the timeline, compare their different life stages, find any moment of their life, share slideshows with others, family members get automatic updates and more. This app is the free version which has a maximum limit on photos and videos. There's a subscription service to get unlimited photos and videos.
Save and document your kid's life through photos on a timeline
Add photos from cloud services or Instagram
Search for specific moments, Compare ages
Share with family members, Give access to family members
In-app purchase for subscription to unlimited photos and videos
This app makes it easier to save space on your iDevice instead of bogging it down with thousands of photos. The interface is simple and elegant, which makes it easy and pleasant to use. Some of the features are very impressive like the auto-finding of duplicate photos, auto-detection of blurred or unfocused photos and the ease of which you can delete photos. The app seemingly learns what you want or don't want, and will help you to clean up your Camera Roll.
The smart and easy way to free up disk space
Auto-detection of duplicate photos
Auto-detection of blurred or unfocused photos
Quickly deleted unwanted photos
Photo optimization and reduction
There are quite a few photo storage apps available that offer a reasonable level of security, but what makes this app slightly different is that it also offers some fairly comprehensive functionality beyond basic security measures. You can actually customize the security options in this by creating a master lock or specifying a password for individual albums that you wish to keep private. Additionally you can share your photos online via social media sites, and even synchronize your files online with Dropbox.
Easy drag-and-drop functions
Keep certain albums private with PIN protection
Easy syncing across multiple devices and Dropbox
Create backup files
Import unlimited images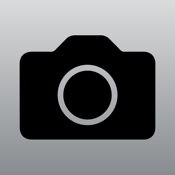 Take full control over your photos with the help of this app. Create custom folders to organize your photos and implement an efficient organization flow to your iDevice. In fact, you can organize your photos before even taking a picture. Quickly choose where the photo will go, create multiple categories in addition to the standard ones already created, and use this app even when you don't have an Internet connection. This app will prevent you from having duplicate photos, preserve your photos even after you delete the app and makes the entire experience a pleasant one.
Use standard categories or create your own
Choose where the photo will go before even snapping the shot
Increases efficient photo organization
No duplicates and won't delete your photos even after app is gone
Can use without an Internet connection
If you need to send large files, up to 10gb, to your friends or family then this is a great app for you. Just enter the email address of the recipient and easily transfer the files. The app was designed to keep things simple and that's always something we here at Apppicker enjoy. In addition to photos, you can also send video files that you have shot with your iDevice. With a variety of taps and swipes you can perform numerous functions. Additionally, you can also pause your transfer and resume at a more convenient time, like when you have a WiFi connection.
Send photos and videos to others
Transfer files up to 10gb in size
Pause and resume transfers
Numerous taps and swipe functions
Praised for it's simplicity
Millions of users have made this app their photo and video manager and editor. It's easy to create and organize your photo and video albums so that you can better organize all of your media files. A calendar view is supported, original data won't be modified, secure data and numerous other functions. You can easily search through your files, add notes and tags, post to Social Media accounts, print via AirPrint, supports AirPlay, backup files via iTunes, edit all of your photos and more. This app is a wonderful blend of organization and editing. There are in-app purchases to remove registration and for a filter pack.
Manage and edit your videos and photos
Numerous organizational tools and functions
Original data is unmodified, Easily import and export files
Backup via iTunes, Add notes and tags, Search functions
In-app purchases
23snaps is an online journaling and photo sharing app. Snap photos, take videos, and record memories and share with your own private list of followers. This app is perfect for new parents to share life with grandparents and friends. Because both parents can upload, over time the record becomes a beautiful journal of the key moments of your child's life. Since features include strict limits on followers, this app is a terrific substitute for Facebook and Instagram. It is especially great for kids to use, for sharing with a safe group of trusted contacts.
Social network app for sharing photos
Online journaling
Great for new parents
Safe for kids to have trusted contacts
Free photo organization app for iPhone and iPad
Photomyne Pro – Album Scanner
Photomyne allows you to scan photos and turn them into live digital records that you can then share. The app is easy to use and has an intuitive interface and you don't even have to take photos out of an album to scan them! You can scan up to four paper photos in one shot, and the app can auto-crop and correct your scanned photos. Save the scanned photos to your camera roll, easily edit the digital photos, tag friends and family in the photos, and more. You can move photos among albums, set cover photos, and you can create an unlimited number of albums. New users get free 30-day photo backup.
Scan paper photos to create digital photos
Post to Facebook
Fast scanning
Easy photo management
Paid app with an in-app purchase to upgrade to Premium
FreePrints Photobooks makes creating a photobook of your precious memories easy, convenient and fun. The app will also create these 5×7 softcover photobooks for FREE. All you have to do is pay the shipping and handling charge. Additionally, there are premium options to upgrade the free books by turning the softcover into a hardcover, increasing the size or adding more pages to the free 20-page allotment. There are no subscriptions or hidden fees in this app. You can easily create your photobook, have it printed and shipped in an efficient time. This app is truly a wonderful app and something that anyone considering a photobook should seriously download.
Get free photobooks of your photos, High quality
All free photobooks require you to pay the shipping fee
Upgrade the free, standard photobook for small charges
No subscriptions or hidden fees
Get the photobooks delivered within a few days
Intaglio Sketchpad App [Summary]
Intaglio Sketchpad is a full-featured drawing application designed for the iPad, iPhone and iPod touch, based on Intaglio, the award-winning Macintosh application. With most iPad and iPhone sketching apps you paint strokes or erase pixels on the screen. Intaglio Sketchpad is different because it allows you to create and edit shapes and text blocks. These graphic elements retain their shape and attributes and can be edited at any time. For example, you can adjust color, line thickness, or fix spelling mistakes at any time. To erase an element you simply select it and delete it without affecting whatever might be behind it.

Intaglio Sketchpad provides a full set of drawing tools and capabilities re-imagined for the multi-touch environment. For example, use one finger to draw or select a graphic, or use two fingers to rotate it. Hold your thumb on a tool button while drawing to constrain the object.

Features:
• Eleven drawing tools including freehand drawing, geometric shapes, bezier curve pen and text.
• Functions to align, delete, duplicate, group, layer or transform graphics.
• Create text using any font style in the iPhone OS (currently 58 font/style combinations on the iPhone and 110 on the iPad).
• Path editor, subpath contour control functions, boolean path operations and text to path conversion.
• Gradients, patterns, drop shadows, arrows, dashed lines, outlined text and clipping masks.
• Drawing aids such as a grid, smart guides and object location and size feedback.
• Customizable drawing scale and size.
• A customizable graphics library including a variety of predefined shapes.
• Multi-touch navigation with two finger scrolling and 800% zoom.
• Multiple levels of undo/redo.
• Import photos and scale or rotate them to composite with other graphics.
• Use cut, copy and paste to move graphics between drawings or export them to other apps.
• Import vector graphics from your computer as SVG.
• Export images to your photo library or as PDF, SVG, PNG or JPEG files to your computer via Wi-Fi or iTunes file sharing.
• Share drawings with other users of Sketchpad via Wi-Fi or Bluetooth, or with Intaglio on the Macintosh.


Snapchat and Instagram Face Filters
Snapchat and Instagram are the two mobile applications that literally blew away the community with their updates and innovations a number of times. The special filters that identify the faces in the picture are among the most significant innovative features. The feature receives an image through a smartphone camera's lenses and puts funny elements over it (a dog face or a flower crown, for example), which is an implementation of the augmented reality technology (AR). In the given article, we will describe how Snapchat filters work, find out the basics of the Snapchat technology and describe the most common tools for the creation of software alike.
How Snapchat filters work: let's begin with bare facts
For starters, let's try to make sure that your application will be capable of bringing a decent profit after the release. In order to do that, you will have to analyze the MSQRD app development phenomenon.
Particularly, in the last few years, the filters have become quite a strong trend in the mobile software development sphere. Just check out the numbers – 1,6 million downloads of the MSQRD app, and that is only at the moment when Facebook decided to purchase it to repeat the success of the Snapchat facial recognition software (which engages around 173 million users with the smartphone's screen daily). Impressed by the popularity of this type of software? We know that we are. Thus, let's continue on with the principles of its creation.
How Snapchat filters work: general development principles
So, how to develop a face filter app? The first thing you will need to do is to choose the suitable API. The most commonly used ones among the developers are Google Cloud Vision API for Android, Google Mobile Vision iOS API, Microsoft Cognitive Services, and Core Image API. Let's figure out by what principles they operate.
In particular, each API goes through two phases in order to recognize a face: image analysis phase and image processing phase. Let's consider each in details.
The first phase is a quite complex one from the perspective of the used algorithms' structure. The algorithms, in turn, are commonly applied in machine learning and require the application of the electronic Gaussian filter. Usually, to implement the phase, a combination of such methods is used – Histogram of Oriented Gradients and Support Vector Machine (note that they are applicable only to photos and are not able to recognize the faces in the turned on camera mode).
The first method divides the image into interconnected cells. The cells are analyzed in various scales and, based on the direction of the brim and intensity of the color gradient, it is defined whether a certain fragment features a face or not (the second method – SVM is used for that process). Then, after the face is identified, the analysis and recognition of its separate elements begin (of eyes, lips, brows, etc.). For that, the operation of the facial landmark detection is conducted (you can find out more details about this procedure in this article). The operation scans the part of an image with a face (the app identifies it as a fragment situated inside the restricting frame created via the previous methods) and indicates the precise coordinates of all the facial elements on the 2D plane.
The Viola-Jones method based on the computer vision can be used as an alternative to HOG and SVM. It employs cascade classifiers and is able to recognize the faces in real-time mode. You can find out more info on this method in this scientific article.
Thus, we received an image fragment constricted by the limiting frame which includes a human face with 2D coordinates that define the location of cheekbones, brows, eyes, mouth, and nose. The next processing stage for this fragment will be an augmentation of a certain virtual object – the so-called mask (on the example of Snapchat – a dog face or a flower crown). Again, the received facial landmarks are used for that. They make possible the situation of a new object in the required place and scaled accordingly (for instance, when a flower crown image is augmented, the software defines the location of a forehead and temporal region). Moving on, let's get to practice and try to choose the best suitable library for the implementation of the above mentioned processes.
You will have to accept the fact that to date, not a single library composed using additional software tools can precisely locate the facial landmarks. Doesn't matter what library we take – an extremely popular OpenCV or some other not that widely used option. Let's take for an example one of the most renowned IT-companies out there – PixLab, which firmly holds the niche of a provider of mobile software that features advanced graphical technologies. According to its programmers team's experience in the facial filters app development, the most productive results can be achieved using the combination of Dlib and MagickWand libraries.
Also, among the favorites of many developers are such libraries as Stasm (used to indicate the facial landmarks; in order to create the restricting frame, you will have to apply third-party software solutions), Cambridge Face Tracker (this library also requires additional tools for face recognition), GPUImage (compatible only with the iOS-based projects), and libccy (this library is used for face recognition but is unable to define the coordinates of the facial landmarks). You can figure out the best fitting option for your particular case only by trial and error.
Back to theory. What else is required to begin the face detection masks development
Suppose you successfully picked the tools. Are there any other guidelines that could help create filters for your augmented reality technology-based app? Yes, there are. We present our own list below. The listed features are guaranteed to make your application stand out among other software with similar functionality.
Use up-to-date masks design. It seems reasonable to enrich your solution with concepts actively employed by other apps. Namely, the all-encompassing cuteness overload and kawaii. On the other hand, you can go with a political topic and create masks inspired by the image of some media characters. For that purpose. employ the services of a separate graphical designers team closely familiar with the latest tendencies that will be able to create something unique and memorable for you.
Employ the latest graphical solutions. Do not limit your designers' space for imagination. Let them realize the most insane (seeming at first) ideas. This approach to creating the new masks can, with a great probability, grant their increasing popularity.
Work with professionals. Independent development of a filter-rich app is a very presumptuous step. It is better to employ the help of experts who have successfully implemented several projects with a face detection feature as machine self-learning uses quite complex for understanding technologies. Remember – you do not get a second chance to prove yourself to your target audience.
Integrate your app with renowned social networks. It is very important to provide your users with the ability to share the processed photos with their friends. Remember to integrate your application with popular social networks for that purpose (such a feature can also make a registration process significantly easier).
How to make face tracking filters: summary
As we can see, the development of filters that work by the mechanics similar to Snapchat or Instagram face detection is not a simple process. Considering the colossal profit an app can potentially bring after the release, we strongly recommend you to employ a team of experts for its development.