10 Best Deepfake Apps and Websites [Updated List]
Here are the top 10 deepfake apps you can try for fun and understand the technology
The acceleration of digital transformation and technology adoption have benefited many industries. It has given rise to many innovative technologies and deepfakes are one of them. We all saw how Barack Obama called Donald Trump a 'complete dipshit'. This is an example of deepfake videos. Deepfake technology uses AI, Deep Learning, and a Generative Adversarial Network or GAN to build videos or images that seem real but are actually fake. Here are the top 10 deepfake apps and websites to experiment with for fun and to further understand the technology.
1. Reface

It is an AI-powered app that allows users to swap faces in videos and GIFs. Reface was formerly known as Doublicat, which had gone viral soon after its launch. With Reface, you can swap faces with celebrities, memes, and create funny videos. The app intelligently uses face embeddings to perform the swaps. The technology is called Reface AI and relies on a Generative Adversarial Network. The latest addition is a new feature by Reface that enables users to upload their own content other than selfies. The new feature is called Swap Animation and it lets users add content other than selfies like photos of any humanoid entity, animate it, and do face swap.
2. MyHeritage
My Heritage is a genealogy website that has an app with a deepfake feature. The startup uses a technology called Deep Nostalgia, which lets the users animate old photos. MyHeritage nostalgia feature took the internet by storm and social media was flooded with different experimental photos. This deepfake technology animates the photos uploaded by making the eyes, face, and mouth displaying slight movements.
3. Zao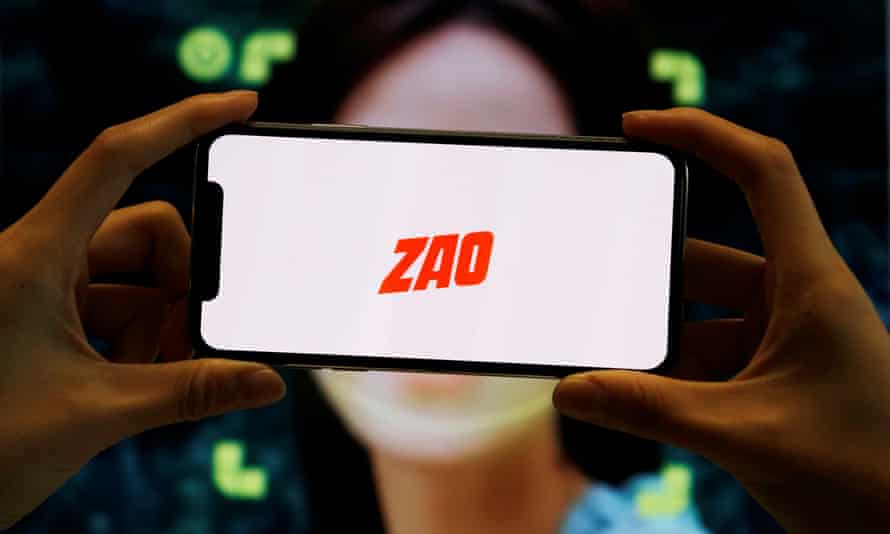 Zao, a Chinese deepfake technology app, rose to popularity and went viral in the country. Zao's deep fake technology allows users to swap their faces onto movie characters, it lets the users upload any piece of video and in minutes you get a deepfake generated. The app is only released in China and it efficiently creates amazingly real-looking videos in just minutes. The app enables users to choose from a wide library of videos and images. Zao's algorithm is mostly trained on Chinese faces and hence, might look a bit unnatural on others.
4. FaceApp
This editing application recently went viral due to its unique features that enable users to apply aging effects. Social media was flooded with people trying different filters from FaceApp in recent times. This is a free app, and this makes it even more viral among the audience. FaceApp leverages artificial intelligence, advanced machine learning, deep learning technology, along with an image recognition system.
5. Deepfakes Web
It is an online deepfake software that works in the cloud. Deepfakes Web allows the users to create deepfake videos on the web and unlike the other apps, it takes almost 5 hours to curate a deep fake video. It learns and trains from the videos and images uploaded, using its deepfake AI-based algorithm and deep learning technology. This platform is a good choice if you want to know the technology behind deepfakes better and understand the nuances of computer vision. It allows the users to reuse the trained models so that they can further improve on the video and create deepfakes without using a trained model. The platform is priced at USD3 per hour and promises complete privacy by not sharing the data with a 3rd party.
6. Deep Art Effects
As the name suggests, it is not a deepfake video app, but DeepArt creates deepfake images by turning them into artistic. The app uses a Neural Style Transfer algorithm and AI to convert the uploaded photos into famous fine arts paintings, and recreate artistic images. DeepArt is a free app and has more than 50 art styles and filters. The app offers standard, HD, and Ultra HD features, in which the latter two are priced versions. The app allows its users to download and share the images created.
7. Wombo
Wombo is an AI-powered lip-sync app, wherein users can transform any face into a singing face. There is a list of songs to choose from and users can select one and make the chosen character in an image to sing it. The app creates singing videos that have a Photoshop quality to them and hence, it seems animated and not realistic. Wombo uses AI technology to enable the deepfake scenario.
8. DeepFace Lab
It is a windows program that lets users create deepfake videos. Rather than taking deepfake technology as a fun element, this software program allows its users to learn and understand the technology better. It uses deep learning, machine learning, and human image synthesis. Primarily built for researchers in the field of deep learning and computer vision, DeepFace Lab is not a user-friendly platform. The user needs to learn the documentation and also needs a powerful PC with a high-end GPU to use the program.
9. Face Swap Live
Face Swap Live is a mobile application that lets users swap faces with another person in real-time. The app also allows its users to create videos and apply different filters to them and directly share them on social media. Unlike most of the other deepfake apps, Face Swap Live does not use static images and instead enables to perform of live face swaps with the phone camera. Face Swap Live is not a fully deepfake app, but if you are looking to use deepfakes for fun, this should be the right one. The app effectively uses computer vision and machine learning.
10. AvengeThem
AvengeThem is a website that lets users select a GIF and swap their images onto the faces of the characters from the Avengers movie series. Although it is not a completely deepfake website as it uses a 3D model to replace the faces and animate them. The website has about 18 GIFs available and it does not take more than 30 seconds to create this effect, which does not look very realistic.
Alternative names for Minimum Viable Product
What is MVP?
Introduction:
A minimum viable product is an early release of a product that provides enough functionality to satisfy early adopters. It is the first stage of the product development cycle including the result of applying an iterative development approach. The goal of a MVP is to search for product-market fit.
3 Amazing Useages of an Alternative Minimum Viable Product
1. Living MVP
This version of a MVP is the most basic. It is still in active development, but it is also in a fully functional state. The goal of a living MVP is to promote user feedback and create rapid changes, which can be used in future updates.
Many entrepreneurs feel the need to release a product as soon as possible. But today's consumers don't want to use an unfinished product or service. In fact, they may not even recognize it as a potential solution for their needs because it doesn't have all the features they're looking for.
This is why entrepreneurs should focus on creating a viable minimum viable product (MVP). A living MVP is a version of a MVP that is still in active development but that is also fully functional. This way, your customers can use your app and provide you with feedback from the ground level to help you improve your final product.
2. Mini MVP
A Mini is a product with a limited scope for testing before going into production with a full scope release product or service.
Mini MVP is a product with a limited scope for testing before going into production with a full scope release product.
This is to ensure that the best features are built, which will bring maximum value to the customer. The features that are not fully fleshed out or tested are pushed to be back-burnered in order to ensure that the best features are built to provide maximum value to the customer.
This type of prototype helps to identify potential flaws and optimize designs before committing to major design changes or implementing more specific features that will not be finalized until later on in the project timeline.
3. Artisanal MVP
These products are created without many resources such as capital, time, and staff members for the sole purpose of having something tangible to present to potential investors or customers during fundraising rounds or sales pitches meetings.
A successful MVP is a product that has just enough features to be valuable to the customer. It is not necessary to have all the features in place. You can have an MVP with just one or two features, but they need to be valuable.
Most of the time, startups are able to launch an MVP for free because they are creating it themselves. However, when you pay someone else to develop your product, the costs will vary depending on how much they are charging per hour or project.
How to find developers to build own MVP?
A potential problem is that we can't just go to a developer and say "hey, I want you to build me this product". This approach won't work because developers want to know what the idea is, and why it's valuable.
The best way to find a developer for your MVP project is by using freelancing marketplaces like Upwork or Guru. These sites let you post your job and see projects people are willing to do.
Most Popular Source Code Hosting Services in 2021
Nowadays, there are a lot of source code hosting services to choose from — all having their pros and cons. The challenge, however, is to pick the one that will fit your needs best because the price is not the only factor that should be considered.
In this article, we'll take a look at the key features of the most popular source code hosting facilities to help you make a wise decision. But first let's take a brief look at what source code hosting service is because, as we see, there are some confusion about this term.
What is a source-code Hosting Service?
In short, source code hosting services or simply source code managers (SCM) are the services for projects that use different version-control systems (VCS). The latter ones are also sometimes referred to as "version control tools".
Basically, a VCS is software and, in general, its main task is to allow programmers to track the revisions of a code in course of software development. Such revisions may be shared among all the team members so everyone can see who made a particular change and when. The list of the most popular version control tools includes Git, Mercurial, and Subversion.
At the same time, a source code manager is not software, it's service. To put it more simply, it's a space to upload copies of source code repositories (i.e. storage location for one project). Unlike version control systems which are just command lines, source code hosting service provides a graphical interface.
Without a source code manager, the work on a software development project would be difficult if possible at all.
GitHub
The choice of SCM is not accidental. Because if you ever ask someone what is a source code hosting service, Github will probably be the first thing they'll start talking about. And it's no wonder: it is ranked No.38, according to the Moz's list of the top 500 websites.
Here are the key benefits of GitHub:
free for open-source projects
contains wiki, a platform for sharing hosting documentation
has an integrated issues tracking system
makes it possible to receive and issue contributions to projects
has a well-developed help section with guides and articles
has gists, a service for turning files into git repositories
has GitHub pages that host static websites
allows for convenient code review (in-context comments, review requests etc.)
has embedded project management features (task boards, milestones etc.)
offers team management tools (integration with Asana)
The above list contains only the most essential advantages of GitHub for you to understand why this source code hosting service is so popular among programmers. Yet, there is a risk that the great era of GitHub will soon come to its end. In October 2018, it was acquired by Microsoft and this raised some concerns among developers. But we'll see.
Prices:
free – for open-source projects
$7 per month – for individual developers
$9 per user/month – for teams
$21 per user/month – for businesses (either business cloud or installed on a server)
GitLab
GitLab is also one of the handiest source code hosting services. As of today, it has fewer users than GitHub but does its best to conquer developers' hearts. If you've ever used each of these host platforms for code repositories, you might have noticed that GitLab looks and feels like GitHub in many aspects. Yet, it also has some features the latter is lacking, so we may not say that GitLab significantly lags behind it in terms of functionality.
Speaking about main GitLab advantages, they are the following:
an open-source software
can be installed on your server
contains wiki and issue tracking functionality
has a user-friendly interface
has integrated CI/CD
comes with a deployment platform (Kubernetes)
allows for exporting projects to other systems
convenient for Scrum teams since it provides burndown charts as a part of milestones and allows teams to manage issues using Agile practices
has time-tracking features
It's worth mentioning that GitLab also offers a convenient and easy migration from GitHub. So if you're among those who feel uncomfortable about Microsoft's acquisition of GitHub, GitLab would be the best option for you.
Prices:
Free – for open-source projects, private projects
$4 per user/month – Bronze plan
$19 per user/month – Silver plan
$99 per user/month – Gold plan
BitBucket
BitBucket is also a widely-used source code management tool and it's a common second choice of many programmers (after GitHub). There are currently two versions of BitBucket: a cloud version hosted by Atlassian and a server version.
The main benefits of BitBucket are:
free private source code repositories (up to 5 users)
supports both Git and Mercurial (unlike GitHub and GitLab that can host only Git projects)
integrates with Jira and other popular Atlassian tools
allows for convenient code review (inline comments, pull requests)
advanced semantic search
supports Git Large File Storage (LFS)
has integrated CI/CD, wikis and issue tracking (only cloud versions)
offers team management tools (embedded Trello boards)
On top of this, BitBucket allows for external authentication with Facebook, Google and Twitter which makes this source code hosting service even more convenient for developers. It's not as similar to GitHub as GitLab, but you can also easily migrate from GitHub to BitBucket.
Prices:
Free – for small teams (up to 5 users)
$2 per user/month – for growing teams (starts at $10)
$5 per user/month – for large teams (starts at $25)
SourceForge
SourceForge is one of the most well-known free host platforms for code repositories. It works only for open-source software development projects, but we could not ignore it in this article because SourceForge was of the first tools of this kind. Actually, before GitHub was even "born", SourceForge already topped the market.
Why you may want to choose SourceForge for your project? Well, here are its main strengths:
free for open-source projects
supports Git, Mercurial, and Subversion
offers the issue tracking functionality
offers an easy download of project packages
allows for hosting of both — static and dynamic pages
Has a huge directory of open-source projects
does not restrict the number of individual projects
The main downside of SourceForge is that it's not very flexible and can be used only for open-source projects. So when it comes to the private app or web development, this source code manager is usually not even on the list.
Prices: the service is Free.
Wrap-up
In this source code management tools comparison, we outlined most widely used or promising services. Of course, there are a lot of other similar solutions which you may also consider for your app or web development project. But if you don't have time for deep research, as professional software developers, we may recommend Github or Gitlab vs Git. These platforms are considered the best code hosting services since they are quite versatile and can satisfy a wide range of programming needs.
What is Green Software Development?
Green Software Definition
Does the Green Software really exist?
And if so, what it does or how it does things?
Where's real green projects separated from rumors and hype?
In the definition for Green Software is introduced as "Computer software that can be developed and used efficiently and effectively with minimal or no impact to the environment".
Despite the fact that big software vendors are often scrutinized in respect to their environmental impact and we are not an exception having thousands of software developers and offices around the globe, we're still sure that.
Green software – the definition for green software is introduced as "Computer software that can be developed and used efficiently and effectively with minimal or no impact to the environment".
Real impact comes when software company participates in actual commercial green projects.
Not trying to say that the way software development company "exists" doesn't matter at all. Of course, it is better when a software developer buys his fast food in paper bags vs plastic or use more whiteboards than flip-charts… but sometimes the list goes too far from what really matters, emphasizing on potential over-use of computational capabilities of the hardware and so on. The development process must be not just lean but also comfortable for the software developer and they should not sacrifice running their unite-tests to questionable environmental impact of it. Instead making quality software that helps protecting the environment – this is where software development companies can make a positive impact.
Here's few examples of green domains where we're really busy as a custom software development company:
Carbon Emissions Trading. This is very powerful model from the economic standpoint and it requires really efficient software development solutions. Here's why. Carbon Emissions Trade (also known as cap-and-trade) simply means that those who pollute more pay to those who pollute less. This is huge incentive to companies and governments to invest in CO2 emissions reduction. Now, in order to reduce the emissions without negative impact to the production capabilities, companies need to re-engineer and tune their manufacturing processes. For this to happen they need someone (usually a consultancy firm) who's gonna be able to measure where are they now and how much do different process components 'contribute' to overall volume of emissions; b) model how to improve the process. For different industries number vary but every manufacturing process usually consists of hundreds factors that impact level of emissions to certain extent.
We actually create the software which consultancy firms use to measure and monitor processes to determine the most important factors that needs to be modified. One of the industries we are busily working for is aviation, which has to adapt to ETS regulations on fuel efficiency for flights.
Smart Energy. Electric energy is quite specific type of "fuel". There's no way of managing it in the 'off-line', you can't preserve it in huge volumes (as you can for oil or natural gas). What needs to be done though is optimization of energy distribution in real time which is not a trivial task per se. Here comes embedded software development in rescue to this problem. That's huge subject in itself and I think it deserves separate post. Meanwhile, here's brief overview of what we do in this domain.
Consumer Privacy. No mistake. Believe it or not, but consumer privacy has so much to do with environment. And one of the biggest issues is paper junk mail. The average adult receives 41 pounds of junk mail each year. 44% goes to the landfill unopened. So, how can any of us get rid of all this? Not that easy. You actually need to go to each merchant web site, fill in the form and submit it or send them a paper mail (another type of waste) asking them stop sending unsolicited offerings to your mailbox. And we know that everything that takes that much effort doesn't work for many and people just don't go all way to get rid of it. But with right technology the process can be automated or at least semi-automated and the consumer can just log on to one system, enter her or his data and the system takes care of unsubscribing the person from all sources required. From the technology standpoint, yes, this is a challenge because system needs to sustain different interfaces and flows for each individual merchant and be flexible enough to adapt for more interfaces as well as catching up with those changing.
Green software really exists and participation in green projects is something software companies should really seriously consider. That is the best way to make an impact.
5 great examples of green software examples in IT
1) Walmart, the world's biggest retail company, has been applying a variety of digital transformations that help manage wastage and energy usage and improve supply chain efficiency.
Wal-Mart is one of the most successful online retailers in the world. They provide mobile express returns and using their mobile app, you can scan QR codes to pay for items at local retail stores. This saves time for shoppers and helps diminish transport usage and CO2 emissions.
2) Patagonia is a company which can pride itself on being highly sustainable. They have used organic materials, resold outfits and have also been committed to providing organic food.
Moreover, the company offers crowdfunding services for charities and environmental projects. Blog posts can be found on The Cleanest Line about environmental crises and other related issues.
3) Getting closer to the implementation of Mega City of NEOM where every potential technology blends together with the intent to serve humanity.
Taking a sustainable approach to urban planning is becoming more popular and Saudi Arabia has recently announced that they'll be investing $500 billion into the development of their megacities, while gearing them with renewable energy.
4) Microsoft continues to push the envelope in creating accountability for environmental protection while also providing solutions to companies who deal with green products.
Microsoft has already worked on projects in the past with energy efficiency, but Microsoft's cloud computing is also making big waves when it comes to sustainability. The increased accessibility of software means that there are less cooling processes & ventilation needed in data centers.
5) Ørsted is a well-known wind technology and bioenergy provider from Denmark. Their decision to unite enables both sides to face environmental challenges more successfully.
Ørsted strives to build a clean energy world where coal and oil-based activities are replaced with clean natural sources. The company is at the forefront of this mission and hopes to be able to implement it by 2025.