Snapchat is basically an app where you can send photos or videos to your friends with added fun effects and also text caption. If you are using Snapchat, you would probably notice the number in front of your Snapchat screen menu.
According to Snapchat support, Snapchat score is basically a number that represents a special equation that factors in the number of Snaps that you have sent and received. The factors also includes the Snapchat stories that you have posted. Snapchat support also stated that the score numbers also taken account other factors.
The other factors remains a mystery and only Snapchat knows what it is. I can assume that the other factors can probably be on how active you are at browsing other people's stories and also your complete details in your Snapchat settings. However, this is only my assumption.
Snap Score
Your Snapchat Score is like a report card, and how high you rank can depend on who you follow & what they post.
Achieve 100+ followers and you'll score over 50, but it takes more than just chasing numbers to earn a Platinum Status. Ways to earn more: Posting your geofilter ideas directly instead of speculating, snapping daily under radar places, and visiting our different account pages.
Build your friends by following them on Snapchat
Build your score by using less filters
You can only see Snapchat scores of your friends that follow you back. So, this also means that people that you follow can see your snapchat score.
So, does Snapchat scores really matters? If you have a high Snapchat score, what does the affect it have to your Snapchat account? Among the main reasons that I can think of are:-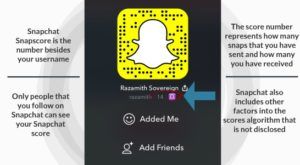 1. AUTHORITY AND SENIORITY
The higher your Snapchat scores, the higher it seems that your Snapchat account have matured in terms of seniority. The score is more of to differentiate somebody who is a season snapchatter with the newbie snapchatters.
2. COMPETITIVE FUN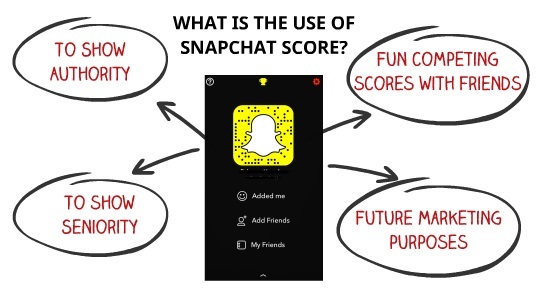 The snapchat score also can be used a fun and competitive measurement between your friends and peers. You and your snapchat friends can compete with each other and see who got the higher Snapchat score within a month.
3. FUTURE SNAPCHAT ALGORITHM FOR MARKETING PURPOSES
Even though Snapchat have never publicly said this, but I am making an assumption here that the snapchat scores will be used by snapchat for their marketing algorithm. People who have high snapchat scores are basically people who used Snapchat a lot.
Therefore snapchat will be giving these people with high scores some kind of advantage if they want to market something using the Snapchat platform. So, the score can be used as incentive mechanise to encourage Snapchatters to be active on a daily basis.
The actual mechanism of the snapchat score is still a mystery. However, there a direct correlation of its score to the usage of the snapchat. Here are some tips on how you can increase your Snapchat scores.

1. SEND AND OPEN SNAP MESSAGES FREQUENTLY AND CONSISTENTLY
You send snap message and open snap message as many times as possible. It is that simple. However, some of your friends are probably not that active in Snap and this might annoy the crap out of them. So, that leads to tip number 2.
2. ADD CELEBRITIES AND SEND THEM SNAPS
Celebrities especially the big names who are in Snapchat probably received snap message every minute. So, the interesting about snapchat score is that as long as you send a snap, it counts as a score regardless it is open or not.
This might change in the future but as of today it does count as score. Therefore, you can add all the big name celebrities and send them a snap or two. You will see an increase in your snapchat score. The upside to this approach, you might get a reply from the celebrities. Who knows.
3. ADD MORE FRIENDS
Even though Snapchat support only says that the snapchat score is accounted by the number of snaps that you send and received, I also think that the numbers also correlates with how many number of friends that you added. I have did some experiment on this by adding some random snapchatters to my snapchat and my snapchat increased by one point.
Another thing about the Snapchat score is that many websites out there are providing services that can increase your snapchat scores. I have not personally tried it and I could not tell you if it is legit or not.
But, please be cautious on this as you can see that buying Facebook likes and Instagram followers have not resulted in any good outcome for the digital marketers out there. Please be legit and white hat all the way. Do not fall into the dark side. May the snap force be with you.