Online Family Tree Maker App: Free and Easy Tracing
A decade ago there was no point even considering researching your roots if you weren't prepared to spend days, months or potentially years trawling through dusty registers and reels of microfilm in an archive where the temperature is controlled at near-Arctic conditions. Now I can browse centuries of marriage records on my iPad while basking in the sunshine.
The internet opened up a world of possibilities for anyone eager to find out, at the click of a button, if a First World War soldier, merchant seaman, or criminal lurks in their family tree. What's more, you can start the process anywhere, surrounded by family, and this is where the best genealogy apps come into their own.
The 10 best family tree building software to help you find your relatives
by Ancestry.com
Start building your family tree and find your ancestors in billions of historic records. This works best when used with a monthly subscription to the Ancestry website. Individual family records can be bought by non-subscribers (up to £1.49 a document), which is useful, but the subscription allowing unlimited downloads is more cost-effective.
Updated: November 12, 2020
Size: Varies with device
Installs – 5,000,000+
by Ezysoft Solution
Family trees are constructed by creating family units for contacts. A family unit consists of parents and their children.
The app will combine all relevant family units to form family trees.
Size: 4.5M
Installs: 10,000+
by Digital Gene
This is an app that allows you to make family trees without having to create an account. There are no paid services within the app either.
Updated: August 22, 2019
Size: 39M
Installs: 100,000+
by FamilySearch International
Your family history is the story of you. The FamilySearch Tree app makes it easy to add to, edit, or share your own family's history anywhere you can take a phone or tablet. Since the app syncs with the FamilySearch website, changes or additions you make are available on any device.
Family Tree
Tasks
Search Historical Records
Relatives Around Me
Map My Ancestors
Messages
MyHeritage – Family tree, DNA & ancestry search
from MyHeritage.com
Another great tool for creating and editing your tree. A useful feature allows photographs to be incorporated. Has a good but basic facility for looking up records, but you need to pay a full subscription to view search results. It supports 32 languages and is renowned for its worldwide genealogy community, helping you link to relatives overseas.
Family Tree Creator – meWho? Lite
from MEWHO SOFTWARE
This app helps to create family tree diagram quickly and easily. The created family tree shall be shared with others as picture or as pdf. This app works offline.
Bloodline – Family Tree Creator
by Losers Team
App is simply what I was looking for. Clean, intuitive, and straight to the point. Creators were quick to answer questions via email, addressed future features and offered solutions.
Features:
– Family Tree Creator
– Free Forever
– Responsive Webapp
– No Ads or Promotions
Updated: September 27, 2020
Size: 8.7M
Installs: 5,000+
Family Tree Pictures Collage Maker & Photo Frames
by Pro Data Doctor Pvt. Ltd.
This is the Free Android app that allows you to design and create beautiful Family Tree Photos as well as Collage Wall Pictures and Photo Frames in just few easy steps. Any one can design stunning awesome family tree and Collages with cool Frame styles.
Updated: October 16, 2020
Size: 7.5M
Installs: 10,000+
FamilyGTG app allows you to build your family tree or import your family's GEDCOM file so you can easily check your family while you are on the go.
Updated: March 3, 2018
Size: 2.8M
Installs: 100,000+
Family Tree Maker Online Services
Canva SaaS
Canva's free family tree maker allows you to showcase your history at a glance. With hundreds of customizable templates, you can easily create a visual map that documents your ancestry with just a few clicks.
Easy drag-and-drop tools, made with the non-designer in mind
More than 20 professional types of graphs to choose from
Designed templates to fast-track your workflow
Data visualization made easy
Publish, share or download
Embed your family tree in presentations
How much does it cost to create a family tree in Canva?
Signing up for Canva is completely free. And most of Canva's pre-designed templates and images are free as well. You can also access Canva's premium templates, images or illustrations and purchase them at an extremely affordable price.
Creately is an easy to use diagram and flowchart software built for team collaboration. Supports over 40+ diagram types and has 1000's of professionally drawn templates.
How to Create a Family Tree in Miro Board?
Family trees are an essential tool in genealogy, with each branch representing the descendant's family line. If you're looking for a way to create a family tree in Miro Board, here are some simple steps you can follow.
Blank Family Tree Template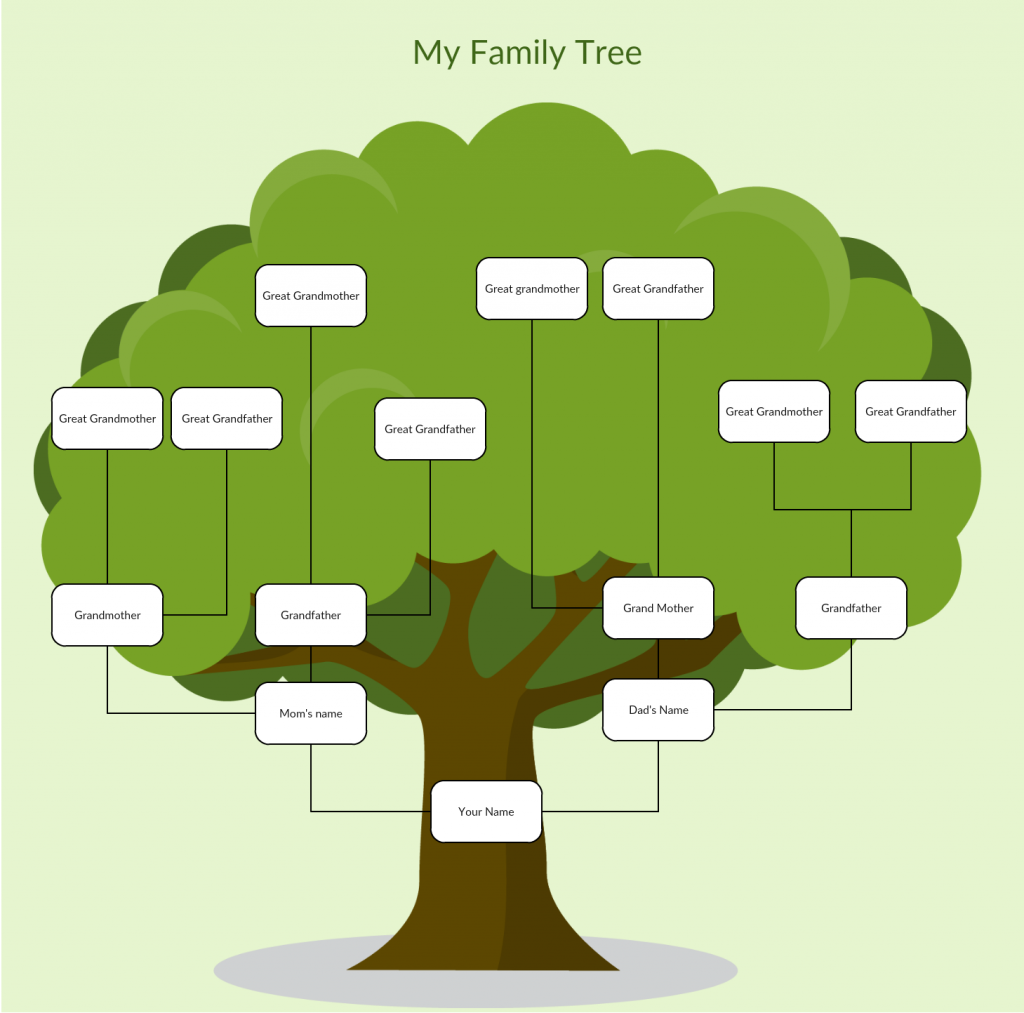 Here's a blank family tree template to help you get started right away. Just click on the image and it will open in the diagram editor. Include the names of your family members to the chart and you can export it and add it to PPT presentations, Word documents or webpages.
Family Tree Template with Pictures