10 Best Open Source Ecommerce Platforms
Online presence is vital if you want to stay competitive in today's world. This is true both for small and medium-sized companies. However, before contacting an e-commerce agency, it is important to choose the right platform that will meet your business needs. Because all companies are of different sizes, processes and target audience.
In this article, we will review top eCommerce platforms you can choose from, including the open source eCommerce platforms comparison. Using this information, you will get a clear picture of modern eCommerce technologies.
To begin with, you should decide whether you need an open source eCommerce solution or another type of platform. Before choosing any platform, you should first answer these questions:
Does my online shop have custom features?
Do I have enough budget to hire a team of eCommerce developers?
Is the custom web design essential for my business?
If your answer is "Yes" to all those questions, we can move further, because your option is an open source eСommerce website builder.
Also read:How to Launch a Successful e-Commerce Website: The Ultimate Checklist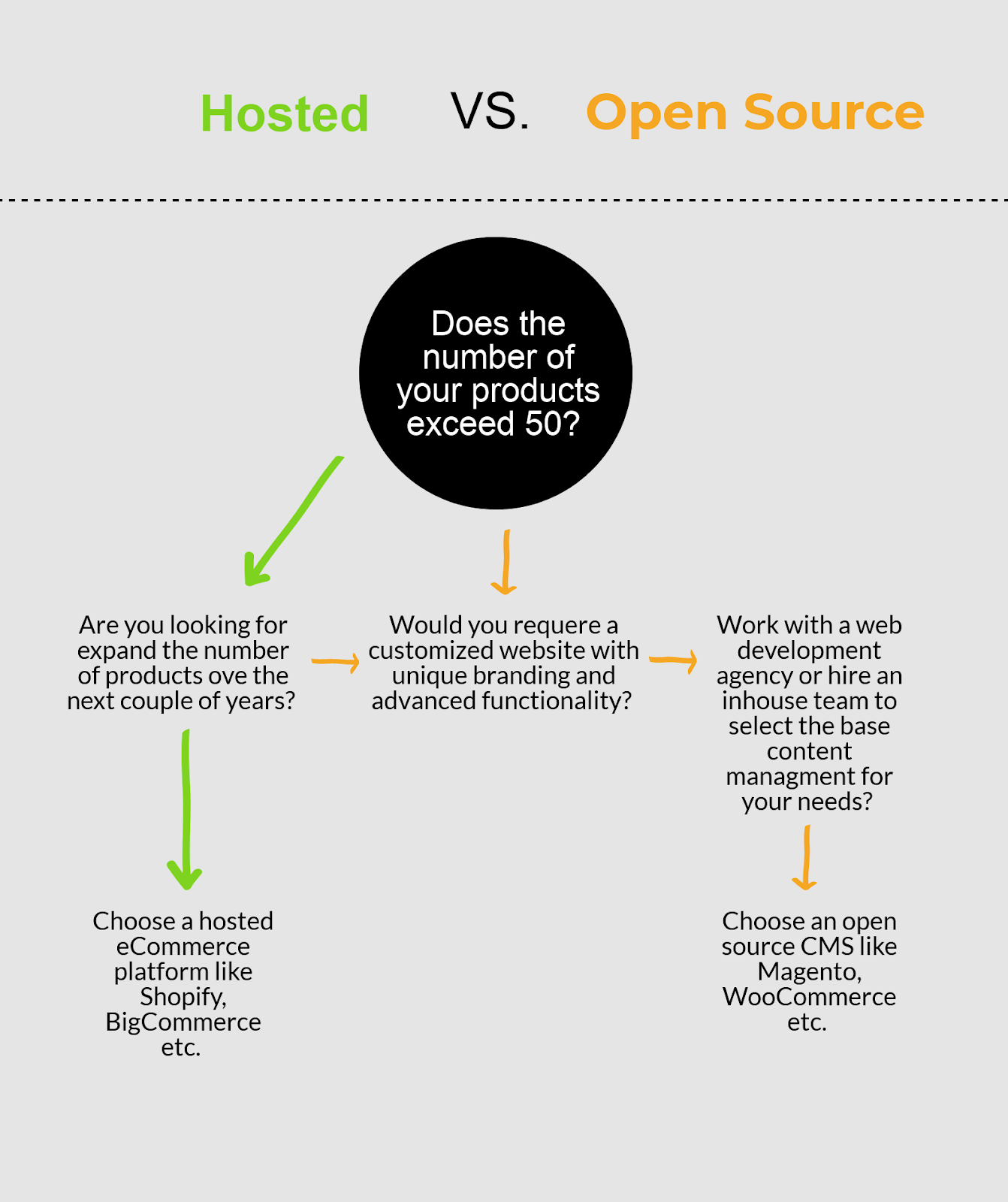 What is the best eCommerce platform 2021?
Today there are many types of open source eСommerce software for every business. Their main benefits are:
Most of them are free.
Platforms give business a customizability opportunity.
You can scale your online shop anytime.
Most platforms with open source have developed community support.
In this article, we are going to share the open-source eСommerce software comparison.
1. Magento Community Edition
Many online retailers think that Magneto is the best open source eСommerce platform. Why? Because currently, it holds about 26% of the e-commerce software market. That fact makes Magento an industry leader. However, it does not suit all companies. There are different plans on this platform. For instance, Magento Enterprise Edition, mostly used by big companies, costs about $16,000 a year. Nevertheless, Magento also has a solution for small and medium companies. With a Community Edition, online retailers can enjoy loads of features for free. The most notable features are of using different currencies and supporting languages, managing multiple stores, and customs modules.
Another benefit of using Magento is a wide range of plugins and add-ons. That way, this platform provides users with flexibility and infinite scalability.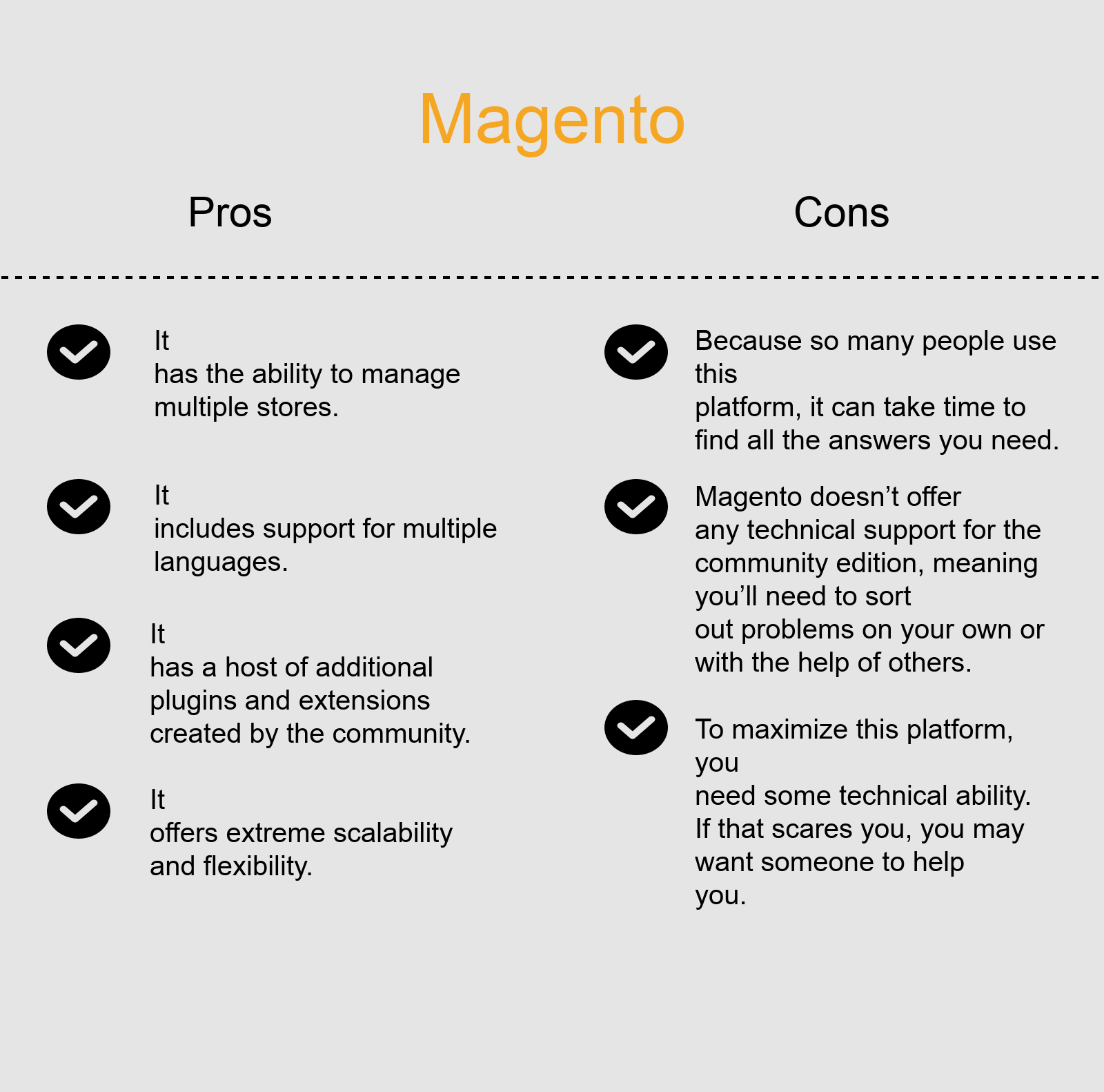 At the same time, Magento has its drawbacks. First, since the community is very big, it could be a challenge to find the answer to your need in the forums. In most cases, even if an online retailer has knowledge in coding, he would rather hire an e-commerce agency to make all the necessary changes.
You should not pay for Magento Community Edition, but if you want some custom features or a beautiful design, you should buy extensions, plugins and templates at the marketplace.
2. osCommerce
If your business needs a platform simple in maintenance, osCommerce is a perfect choice. This "old reliable" solution is still popular among online retailers. To provide your online shop visitors with custom designs and functionality, you can use 7,000 extensions created by osCommerce developers.
osCommerce platform has developed a community that includes over 26,000 online retailers. In case of any problems with your website, you can use the support network.
If you think that osCommerce suits you the best, you should know about its disadvantages. The platform is quite old and not as powerful as modern e-commerce solutions. In this case, online shop scaling could be a challenge.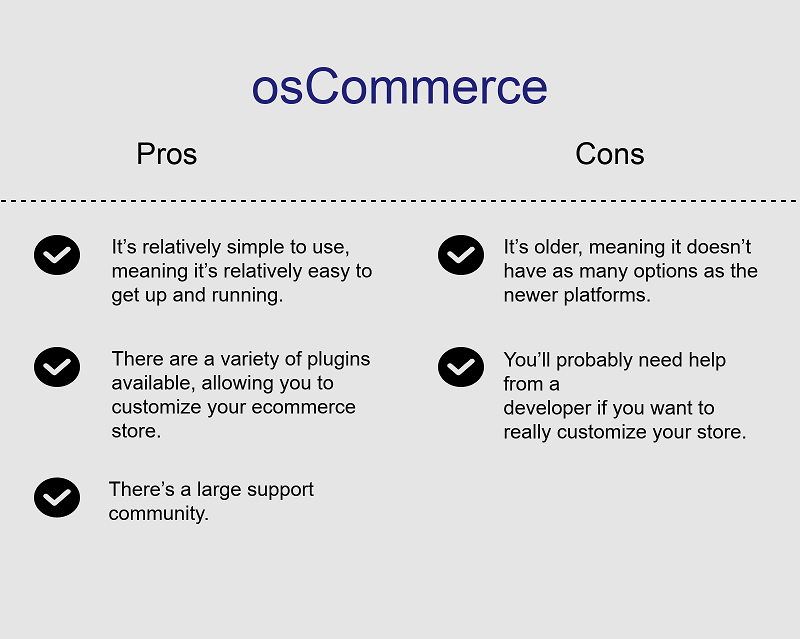 3. OpenCart
This platform suits perfectly to online retailers, who have a small business and are not technological persons. This solution is easy to set up. OpenCart has basic e-commerce functions that might be helpful to start your first online shop. However, this can also be a disadvantage if you plan to scale your business and launch marketing activities.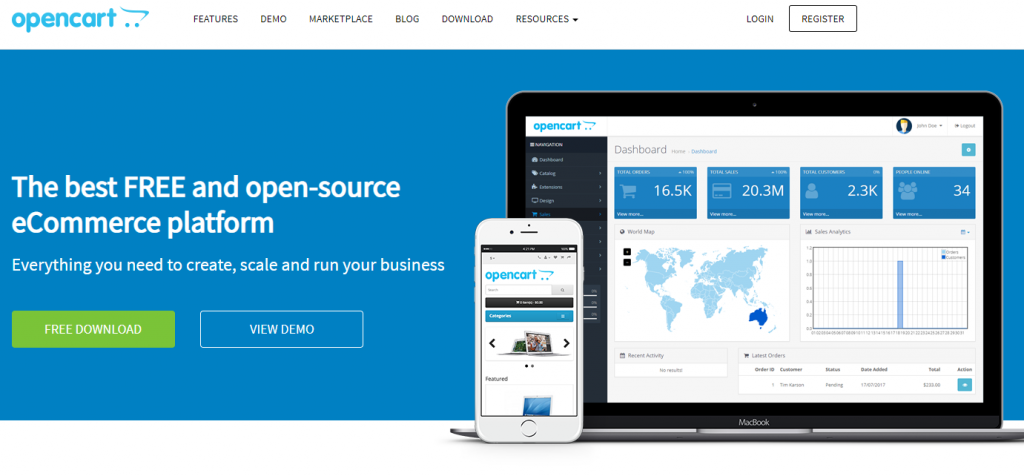 Meanwhile, in the first stages of setting up an OpenCart website, you need to hire an e-commerce agency to help you with some code. To add more functions and to make your online shop more flexible, you can use tons of different plugins.
OpenCart weak point is that some plugins do not always work together and have poor compatibility. Another drawback is updated that may never come. If you are not scared to put your business at the mercy of software developers, you can use this solution.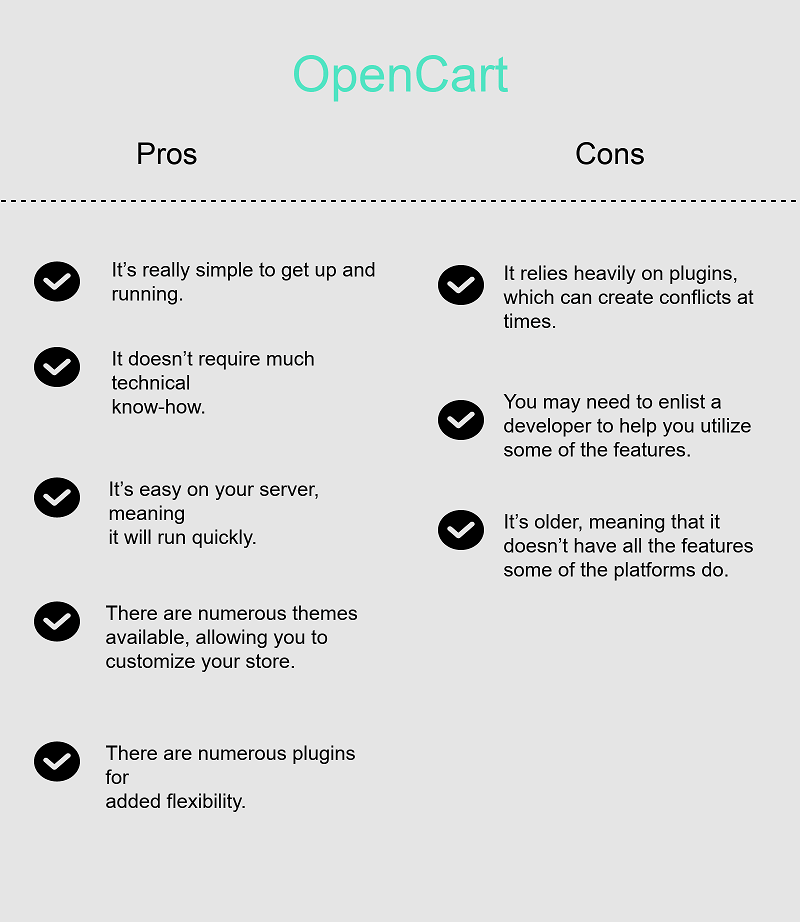 4. Spree Commerce
This online store platform was developed on Ruby on Rails. With many online business owners, Spree Commerce platform is growing very fast. Why is it so popular? Users say this platform is easy to learn and has rich functionality.
The platform also provides many ready-made extensions so users do not need to use a third party for improving feature list.
Spree Commerce has advantages of scalability and flexibility. Online retailers can add any custom feature to their website. Such advantages make this e-commerce solution one of the top eCommerce platforms in 2018.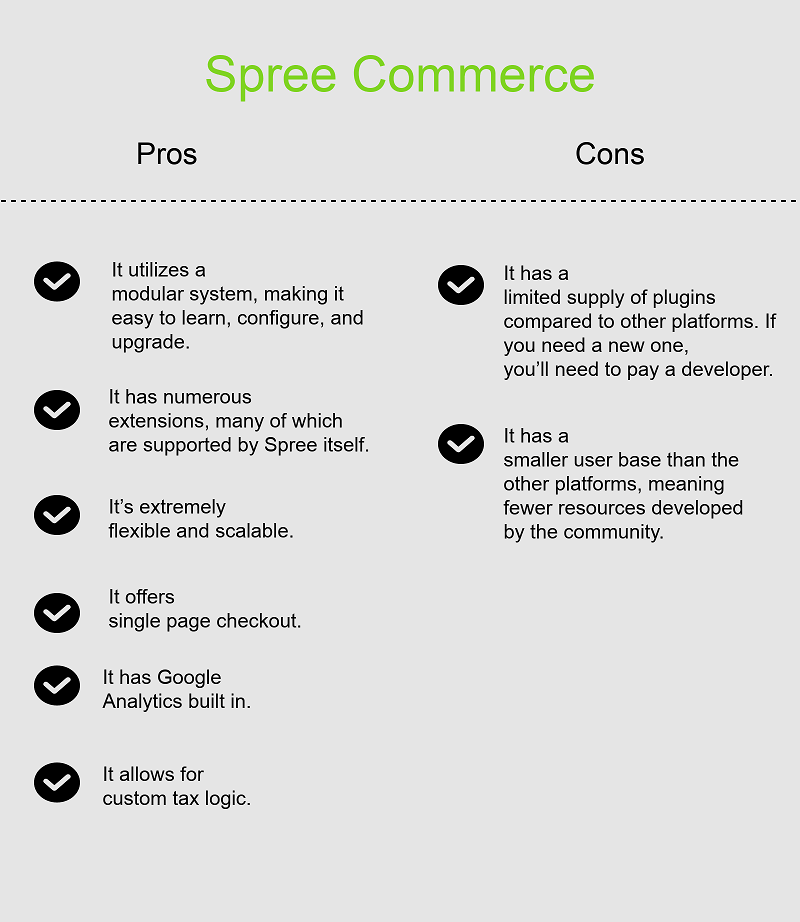 5. PrestaShop
This solution is very popular among online retailers. For this reason, we decided to add PrestaShop to this open source eCommerce platforms reviews.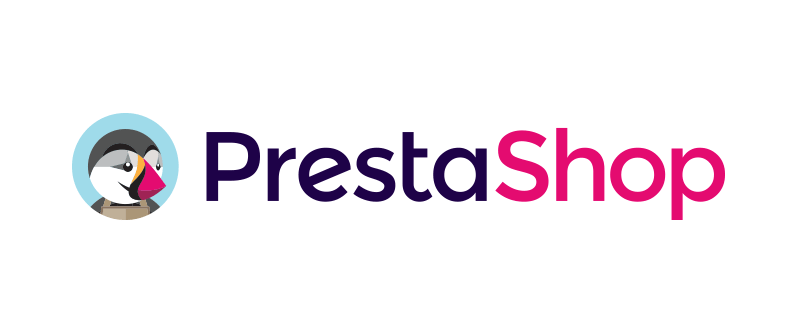 PrestaShop has the intuitive admin panel. Users can easily install an e-commerce website. With this platform, you can determine the level of technical control since there are both self-hosted and fully hosted options. Moreover, both of them are free.
Nevertheless, PrestaShop also has its disadvantages. There are limited options for website customization. If you are looking for a platform that allows your business to create the bright design and many graphic elements, look for something else.
To customize the design on PrestaShop website, you can buy extra themes.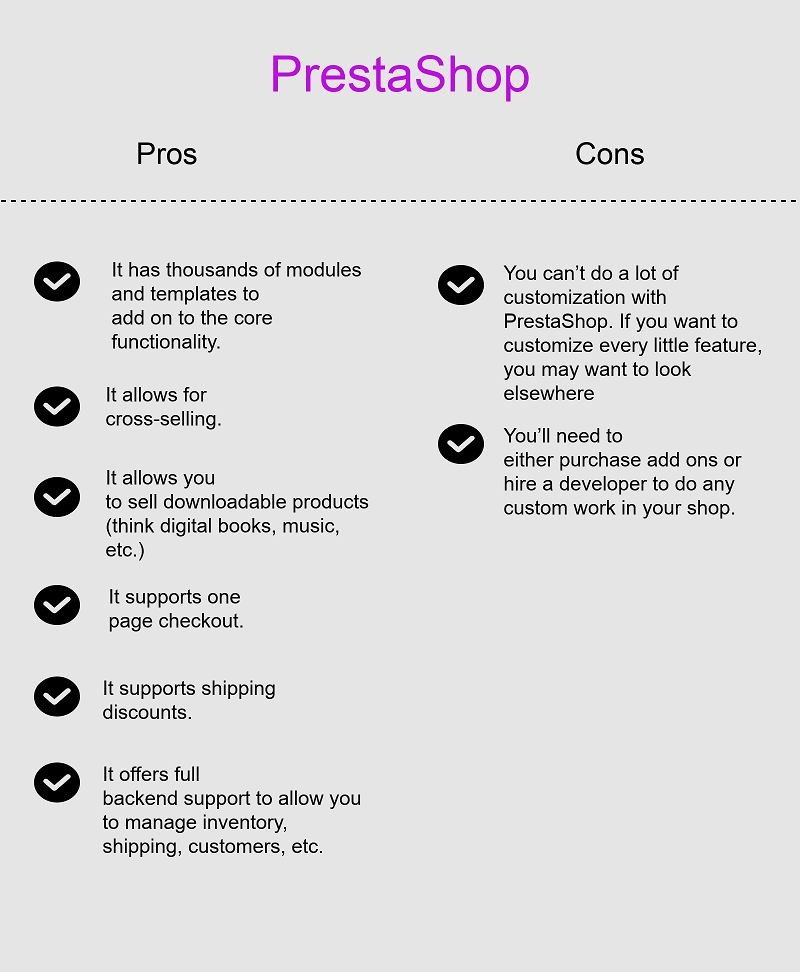 6. Zen Cart
Zen Cart platform has many users and a great supporting community. If you need a platform with developed product management features, this one will fit your business. This open source website builder has over 150,000 members in the support community.
What advantage will you get with Zen Cart? The main advantage as we said before, is great product management. Users are free to create sales, specials and control inventory.
However, pay attention that adding too many products may slow down the system. If your business offers many products, you should consider another open source eCommerce software.
When choosing Zen Cart as an open source e-commerce platform for your online retail business, you should be aware that this platform has a kind of unattractive design by default. To make an e-commerce website on Zen Cart attractive, you will need some help from developers. You can also buy templates to make your storefront look more attractive.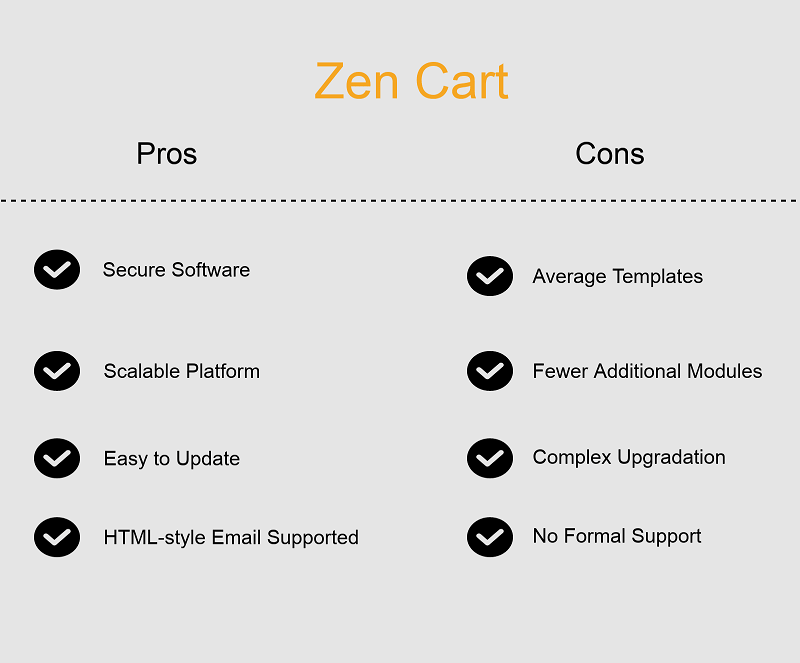 7. WooCommerce

If you're into WordPress and want to start an online business, we can offer you several options. However, in this part, we are going to tell you about the most popular WordPress plugin WooCommerce. This leading open source solution for e-commerce also has a great user community. One of its benefits is that you can set up and manage your online shop without any technical knowledge. User-friendly admin panel made WooCommerce very popular among many retailers.
This platform is mobile friendly. With this feature, your online shop visitors can make orders from their mobile devices or tablets. As a result, you increase your sales. Moreover, one of the add-ons even allows you to create a mobile app with your products.
Take into account that WooCommerce works only with WordPress websites, which is not suitable for some types of businesses. Nevertheless, if you are familiar with WordPress admin panel, WooCommerce will be a great option for your business. To get custom features out of this open source e-commerce solution, online retailers should pay for extensions and templates.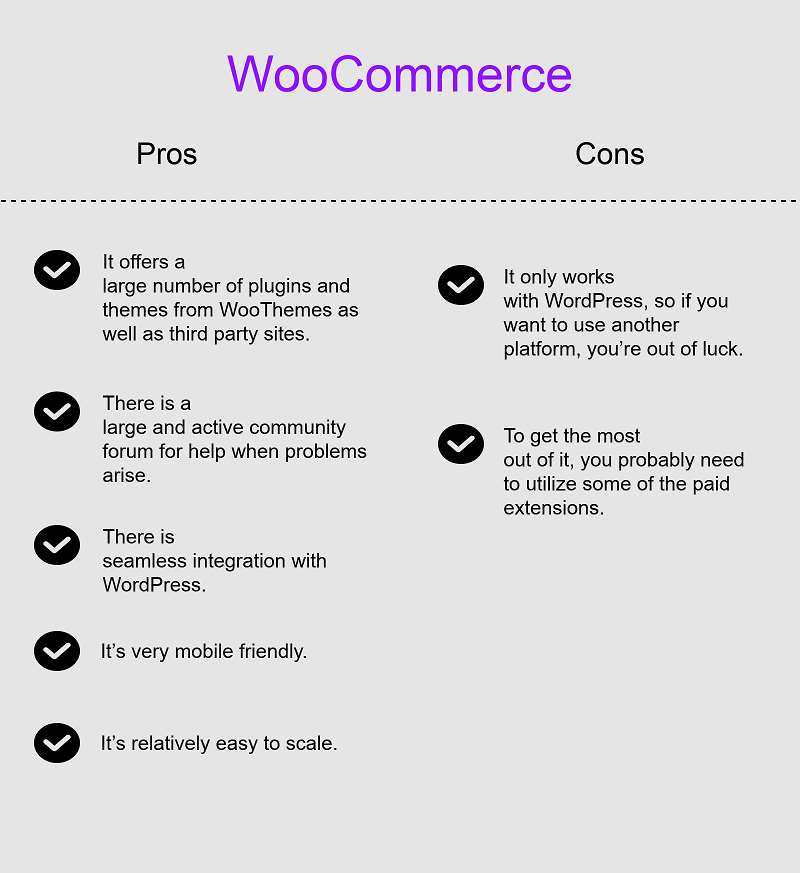 8. JigoShop
JigoShop is one more option for WordPress fans. Like WooCommerce, this solution is easy to set up. If you want to make your online shop effective and convenient, you should pay for additional themes, extensions and plugins.
The main disadvantage of Jigoshop, as for WooCommerce – you cannot link product variations with this platform. For instance, if a business sells products of different sizes and colors, the platform requires specifying a color option for every size. The process of creating so many pages may take plenty of time.
Default features of Jigoshop are very basic, but you can buy additional upgrades to satisfy your business needs.
9. Drupal Commerce
If you are familiar with Drupal admin panel and looking for an e-commerce solution, Drupal Commerce may be the right choice for you. This open source e-commerce solution is not only SEO-friendly but also flexible. Do not forget about clear administrator panel and advanced payment modules, even subscription-based.
As you understand, this solution works only with Drupal websites. From the beginning, Drupal Commerce has only basic features for e-commerce. To extend a website functional, you can buy "Commerce Kickstart" package. Consisting of the most popular add-ons, it will give the new online shop a nice start.
Consider this option if you are looking for an online shop with basic features, but you plan to expand it with third-party extensions.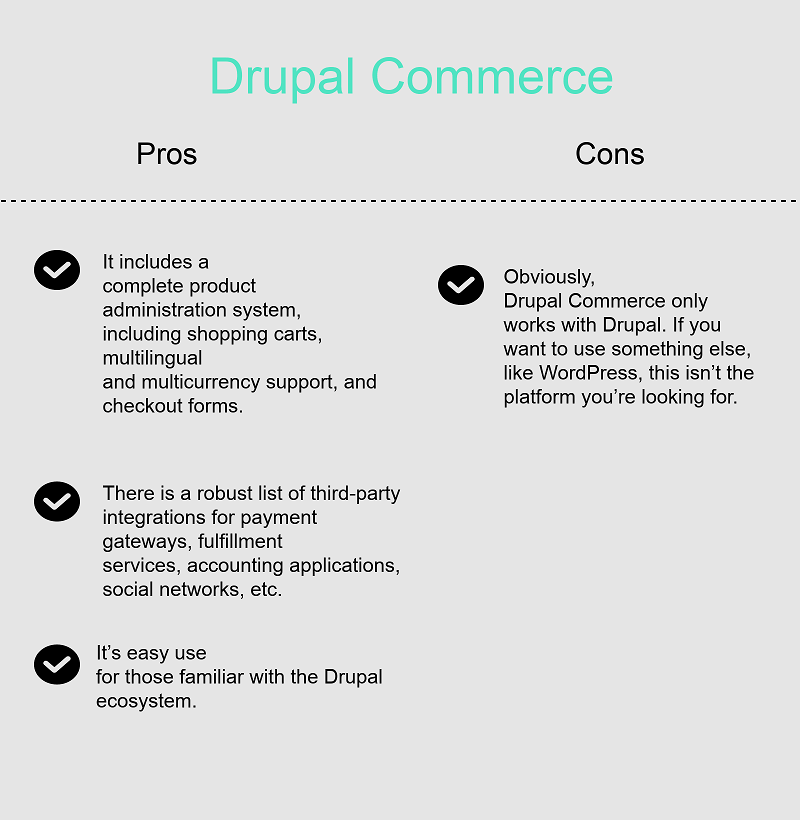 10. VirtueMart
VirtueMart is an e-commerce extension developed for websites on Joomla. It is extremely easy to set up and run an online shop with this solution. Especially if you want to sell overseas since it has multi-language capabilities.
This extension is popular for SEO friendly features, allowing online shop owners to get more traffic that is organic. VirtueMart provides users with not only inventory management but also invoicing.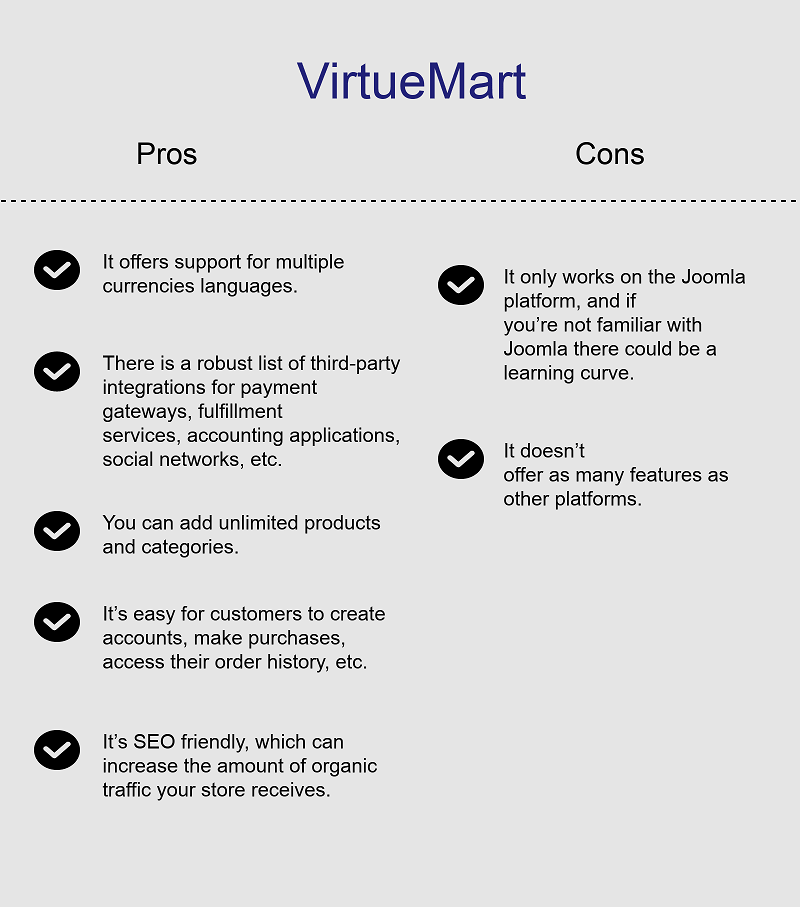 How to choose the Best Platform for your online business?
Since you now know about the most popular open source eCommerce solutions, you can make the right decision for your business. In the table below, we share additional information about most platforms solutions and maintenance prices.
| | | | | | |
| --- | --- | --- | --- | --- | --- |
| | Magento | WooCommerce | Opencart | osCommerce | Drupal Commerce |
| The number of online shops | 216,548 | 396,171 | 179,100 | 80,141 | 13,989 |
| % share of top 100,000 eCommerce websites using open source technologies | 58.2 | Data not valid | 6.0 | 11.1 | 7.2 |
| Number of add-ons, extensions and plugins available | High | High | Medium | Medium | Medium |
| Availability of expertise for development and maintenance | Very easily available | Very easily available | Suitable expertise is difficult to find | Suitable expertise is difficult to find | Very easily available |
| Overall development and maintenance cost | Low | Low | High | High | Medium |
In this table, we share the comparison of Pros and Cons of the top e-commerce open-source platforms.
| | | | |
| --- | --- | --- | --- |
| E-commerce platform | Price from (per month) | Pros "+" | Cons "-" |
| Shopify | $9 | Ease of use, wide range of features, extendable, mobile-friendly, great support | Advanced customization difficult, expensive, no blogging capabilities |
| BigCommerce | $29.95 | Easy to use, feature-rich, great design options, SEO and marketing, payment options, customer support | Confusing plans, expensive, lack of ownership |
| Magento | $5 | Feature-rich, third-party integrations, customizable, scalable, marketing-friendly, well-supported | Unsuitable for beginners, can be hard to find a developer, can be costly for the enterprise |
| WooCommerce | $0 | Cost-effective, easy to setup and use, feature-rich, customizable, well-supported, SEO and marketing, full ownership | Advanced customization skills required, dependent on WordPress, true costs difficult to calculate |
Shopify just made a $2 billion windfall on Affirm IPO, six months after their partnership.
The two companies forged a partnership in July for online lender Affirm to become the exclusive provider or point-of-sale financing for Shop Pay, Shopify's checkout service. As part of the deal, Shopify was granted warrants to buy up to 20.3 million shares in Affirm.
https://www.cnbc.com/2021/01/13/shopify-makes-2-billion-on-affirm-ipo-six-months-after-partnership.html
Conclusion
Without knowing your business size, specific and needs, it is impossible to say which platform is the best.
If you are looking for an online shop with basic features, you do not need to pay for advanced modules and extensions. Yet conversely, if you want to surprise website visitors with a bright design, custom features and you have enough budget, high-performance platforms suit your business more.
We hope that our open source eCommerce software review was helpful to you.